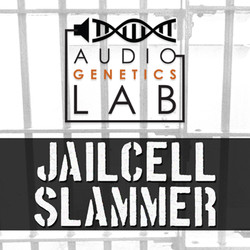 Audio Genetics Lab has announced the release of Jailcell Slammer, a collection of ready-to-use one-hit impacts and effects created from recordings of the actual jail cell doors of Alcatraz prison.
While our field recordist was taking a public tour of the famous San Francisco prison, a special presentation was given on the sound of the cell doors. A long set of cells was closed simultaneously by a single operator at the end of the row, filling the historic space with a thunderous metal punch.

These huge metallic impacts were the starting point, and we at the lab took those recordings and created a set of hits, ramps, and sub-booms that are sure to cause a riot.

The simple user interface offers optional distortion and reverb (with a custom collection of 13 synthesized reverb impulses), and controls for velocity sensitivity of volume and/or filter.

The library includes a single patch with all the processed hits, ramps, and booms, as well as a collection of designed patches for out-of-the-box textures, tremors, and madness. Individual impact types (Subs, Big Hits, Ramps) have their own patches, allowing those samples to be spread out along the keyboard for more pitch control.

As always with Audio Genetics Lab libraries, all of the samples are accessible for your own mangling and modification outside of Kontakt. Drop them straight into your project or load them into your favorite soundmasher.
Jailcell Slammer for Kontakt is available for purchase for the introductory price of $9 USD (regular $15 USD). Requires full version of Kontakt 4.2.4 or higher.
Visit Audio Genetics Lab for more information.