Audio Imperia has announced availability of Cerberus – Cinematic & Epic Drums for Native Instruments Kontakt, an innovative drum library with a wide range of options that will take you from individual cinematic drum kit to epic ensemble powerhouse.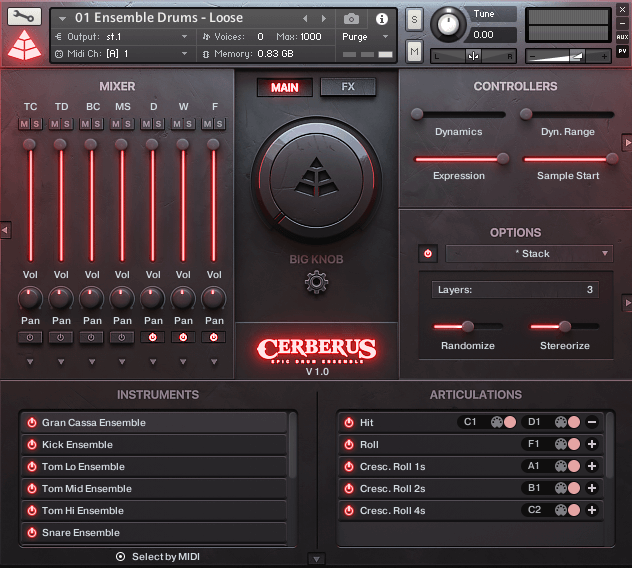 Recorded on the same recording stage as Audio Imperia's flagship orchestral library Jaeger, Cerberus delivers an easy way to build larger-than-life drum ensembles with a brand new stacking script. You can transform the hard-hitting drummer trio we used during the sessions (which gives the library its name) into an army of players, ready to crush anything standing in their way.
To make the library even more flexible, it features recordings of an individual drum kit with cymbals as well as a thundering Gran Cassa ensemble. Cerberus features Audio Imperia's signature multi-samples engine, which has now been expanded with a new percussion mapping script. This makes things as easy as possible so that you can focus on what's most important: making music.
"Cerberus is impressively punchy, easily customizable, instantly playable and immensely fun to work with. The sound is phenomenal and one can get the right results in the blink of an eye. I think I just found my new go-to trailer drums library!" Michał Cielecki – Composer for Video Games such as Bulletstorm, Sniper: Ghost Warrior 2, Shadow Warrior, Witcher 2 and Two Steps from Hell's "Orion" album.
Cerberus features
High definition audio quality.
13.3 GB installed.
7 microphone positions for the regular patches & 3 mix mic positions for the processed patches.
Sound Effects and Loops using nothing but the original source material.
Custom Kontakt Engine with signature master control knob.
True Stacking Engine, for which we recorded additional round robin samples.
Requires FULL VERSION OF KONTAKT, 5.5.2.880.
Convenient and reliable download via Continuata Connect.
Cerberus is available for the intro price of $249 USD through July 31st, 2018 (regular $299 USD).
More information: Audio Imperia