Audiobus has announced the launch of its new Audiobus Remote, a companion app that transports music creation apps' controls onto a second iOS device. Already compatible with the acclaimed app-to-app audio platform's diverse community of over 700 apps, Audiobus Remote paves the way for exciting new mobile music workflows.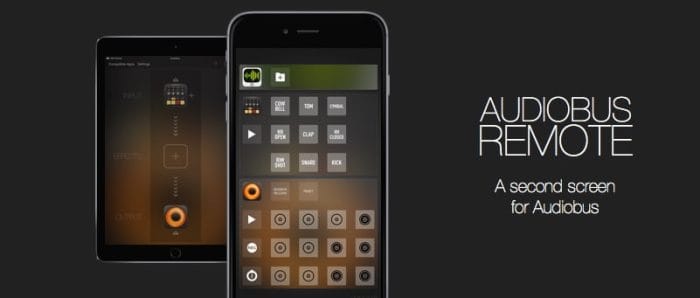 Built upon Bluetooth Low Energy and Apple's iBeacon wireless technology, Audiobus Remote connects to the Audiobus session on the main device when the two devices are held close together. Once connected, Audiobus Remote mirrors the Audiobus Connection Panel for convenient access to functions of all Audiobus-compatible apps running on the main device, including app switching, transport controls and record toggle.
The multi-app low-latency control surface supports custom controls, which developers can add to their apps to expose app-specific functionality. These "Remote Triggers" pave the way for an exciting range of new workflow possibilities, including:
Per-track playback and record,
Drum sample pads,
Preset switching,
Chord or pattern selection.
Audiobus Remote is being released in tandem with a range of third-party apps, which already offer deep integration with Audiobus Remote by providing extensive Remote Triggers:
AUFX:Dub.
Bias FX.
Caramel.
Crystalline.
DM1.
Echo Pad.
JamUp Pro XT.
JamUp XT.
Loopy HD.
Sector.
SoundPrism Electro.
Stereo Designer.
Swoopster.
Patterning (coming soon).
Animoog (coming soon).
Filtatron (coming soon).
The full directory of Audiobus-compatible apps, including those featuring Remote Triggers can be found at http://audiob.us/apps
Audiobus Remote is available for purchase for $4.99 USD (run on iOS 8 on the iPad 3, iPhone 4s, and newer devices). For a limited time, Audiobus is also 80% off, at $0.99 USD.
More information: Audiobus / Audiobus Remote