AudioKit has released its first in a series of 10 Limited Edition Bonus apps. Each special limited edition app will be available for a short period of time, much like a limited edition vinyl run.
The Bass 808 Synth is a sub bass and kick synthesizer for iOS/AUv3.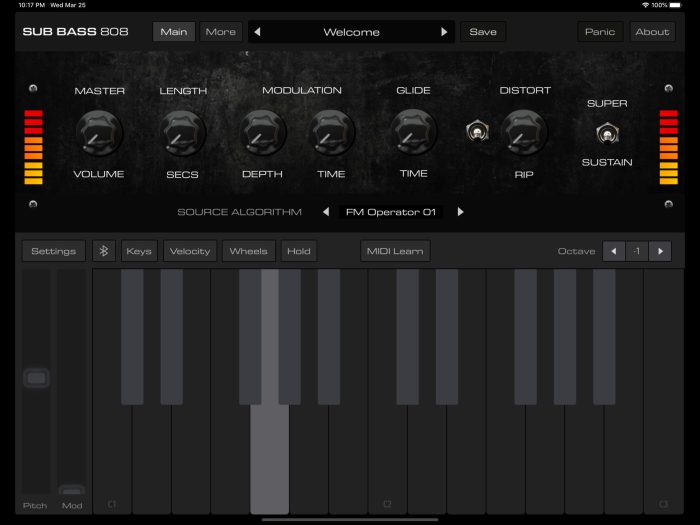 Whether you make electronic, pop, hip hop, drum & bass, trap, rock, or experiment with music, this is for you. AudioKit Bass 808 Synth is perfect for earth-shaking sub bass lines and creating your own custom electronic drum sounds – It's the ultimate tool for creating your own 808 Kicks!

Express yourself. Create your signature sound. Simple controls allow you to easily sculpt your own bass or kick sound.
Bass 808 Synth features
Create earth-shattering bass.
Standalone app & AUv3.
Includes over 100+ presets by Brandon Rico Simpson, Dusti D-Sine, Sound of Izrael, Tic Toc, Audio Dabbler, DJ Puzzle, iPadBeatMaking, Torley, Kelby Kryshak, and more.
New powerful AUv3 code. Works great as an AU plugin in GarageBand, Cubasis 3, BM3, NS2, AUM, Auria Pro, and more.
Efficient! The entire app is under 20mb on most devices.
Pitch Modulation.
Glide.
Distortion.
Bit Crushing (6-bit, 8-bit, 12-bit).
Super Sustain.
Low-pass Filter.
Super Smash Limiter.
AUv3 Automation.
The Bass 808 Synth is available for an extended period of time, at least until May 8th, 2020, with possible extensions. It costs $2.99 USD.
More information: AudioKit