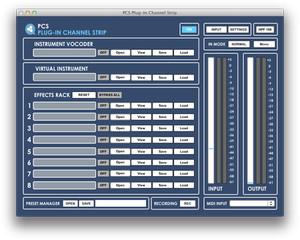 Audiomeals has announced the release of Plug-In Channel Strip, a prototype audio app conceived for music production, live sets and audio post-production, including voice and sound design.
Plug-In Channel Strip features eight plug-in modules where you can load any VST effect to design your own VST channel strip, including plug-ins like equalizers, delays, reverbs, distortion, flanger, compressors or any other VST effect from your computer.

Send your mic or instrument input into PCS to design the sound you want while PCS processes the incoming audio through eight plug-In modules.
Plug-In Channel Strip features
Optional 100Hz High Pass Filter at input stage.
Up to 8 plug-ins channel strip.
Save & Recall options.
Mono & Stereo Input modes.
Virtual Instrument module available. Play any virtual instrument through the plug-in channel strip.
Vocoder module available. Load any virtual instrument to use it as your vocoder sound source, feed the vocoder with your mic input and process the audio through the plug-in channel strip.
Output recording on WAV-AIFF-SD2-AU formats. Up to 192kHz/32-bits, depending your soundcard.
Use Plug-In Channel Strip within any DAW or audio editor via Soundflower or JK Pipe (for Protools).
The Plug-In Channel Strip for Mac OS X 10.6 or later is available to purchase for $7 USD / 5 EUR. Windows version is coming soon.
More information: Audiomeals