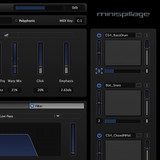 AudioSpillage has released version 1.1 of MiniSpillage, a freeware drum synthesizer instrument plug-in for Mac.
MiniSpillage is a free professional quality drum synthesizer plugin featuring a high resolution 64-bit DSP audio engine and a custom set of drum synthesis algorithms. MiniSpillage offers a compact subset of the many features available in the DrumSpillage drum synth plugin.
Changes in MiniSpillage v1.1
New Features:

improved support for automation recording and editing
added solo buttons for each pad
added FM (frequency modulation) parameter to the BassDrum model
added Q (resonance) parameter to the WoodDrum model
pad selector now displays pad triggers in realtime
added copy/paste pad menu items in the pad file menu
added user preference to view MIDI note ranges as absolute MIDI values (0..127)
pads can now transmit 'velocity' via a user preference
added user preference to set default pad note-on velocity
improved meter sensitivity and accuracy
GUI improvements
wider selection of presets in both MiniSpillage and AudioUnit host format
printer friendly manual

Significant Changes:

Cocoa compatible host required (Ableton Live 7 still supported)
DSP optimisations

Bug Fixes:

fixed a bug that prevented the GUI opening correctly on Digital Performer 7
fixed a bug that produced inconsistent Env2 re-triggers
fixed a bug that caused the Decimate2 distortion algorithm to fail occasionally
fixed a bug that prevented filter cutoff modulations from restoring properly
MiniSpillage is available as a freeware AU instrument plug-in for Mac OS X 10.4 and higher.
More information: AudioSpillage