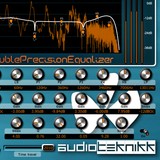 AudioTeknikk has released version 0.53 Beta of DoublePrecisionEqualizer, a free equalizer effect plug-in for Windows.
DoublePrecisionEqualizer got the name because it uses double precision floating point stream (64bit) in the critical parts of the calculations. It supports all sampling rates up to 192khz . There are different kinds of biquad filter structures witch also will affect the precision in computation. I have choosen Direct form II. So the sound should be top notch. This is ment to be a good and clean sounding EQ with minimal digital artifacts and a practical and informative UI for the user. The nodes in the graph also gives you and alternative way to control the parameters. It is implemented a circuit to give a tubish/analogish feel to the sound if you move the "Time travel" slider back in time.
Changes in DoublePrecisionEqualizer since v0.22 beta
High CPU consumption caused by GUI is now halved.
New fresh GUI.
Added controllable nodes to graph.
RMS and PPM now correct.
Added "Time travel" slider to change character of the sound.
Q and Slope values are now correct.
Added variable slope on LP & HP.
Added preset manager for the user to make his own presets.
Noise and pops some times when sweeping frequencies are now gone.
Added broken modus to get some crazy sound.
DoublePrecisionEqualizer is available to download as a free VST effect plug-in for Windows. Donations are appreciated.
More information: AudioTeknikk / DoublePrecisionEqualizer