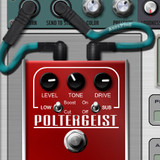 AuraPlug has released version 2.1 of AmpFire, a VST effect designed for metal guitar players.
AmpFire is a preamplifier, distortion, power amplifier and speaker cabinet simulator in one. AmpFire does not contain effects (except for an input Noise gate). We focused on guitar-sound and low CPU usage when designing AmpFire.
Changes in AmpFire v2.1
Bat Overdrive/Distortion pedal added — The distortion stage is followed by a passive tone filter and volume control. The Bat is a three knob pedal. Distortion, Filter (to shape the EQ curve), and Volume. It couldn't be easier to use. Just remeber the Filter knob works in reverse. As you turn it up, it cuts the high frequencies.
Poltergeist Distortion/Octaver pedal added — It has three knobs and two switces: Tone, Level, Drive, Low switch and Sub switch. The Low switch has three positions, allowing you to add or subtract 12dB from the 0 setting at low frequencies. When the Sub switch is on, it can actually add a single octave down to the sound.
Noise Soldier High Gain Distortion pedal added — The Noise Soldier is a high gain distortion pedal with a 3-band EQ (Low, Mid and High). You can achieve a wide range of distortion tones with the EQ.
Some bugfixes
AmpFire 2 is available as a VST effect plug-in for Windows PC, priced at 40 EUR.