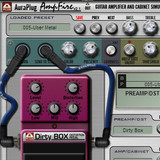 AuraPlug has released version 2.2 of the demo version of AmpFire, an effect plug-in designed for metal guitar players.
AmpFire is a preamplifier, distortion, power amplifier and speaker cabinet simulator in one. AmpFire does not contain effects (except for an input Noise gate). We focused on guitar-sound and low CPU usage when designing AmpFire. Plugins deriving from other manufacturers are easy to add to post-AmpFire VST series. Countless VST effects are available for this.
Changes in AmpFire v2.2
The first version for AU and VST on Mac OS X is available.
Both 32 and 64 bit versions are available for Windows Xp, Vista and 7.
64 bit internal processing resolution.
Completely new internal Preset Manager.
Less CPU usage and better performance.
Fixed some GUI bugs.
Fixed MIDI input bug.
Fixed denormal bug.
The demo version of AmpFire 2.2 for Windows and Mac (VST/AU) is available to download now. The full version of AmpFire is coming soon.