Mystery Islands Music has released Auroron, a soundset by Luke Terry for the Virus synthesizer by Access Music.
The soundset follows up on the successful Hyperboreal soundset, offering a new collection of 123 presets that cover all of the dance music genres with classic to new sounds.
Again, with this soundset, it is primarily focussed on trance music and a lot of the sounds are lifted straight from my upcoming album. You really can't go wrong with an Access Virus, I probably use mine now more than ever!

As always, the soundset is all killer, no filler. Is is very much a pure soundset designed to help you making music,, There are quite a few more sounds in this set that have the velocity linked to the filter to help give the human touch for live playing.

The sounds are pretty much all ready to be dropped in to your track with minimal fiddling. I could have made the demo reel an hour long without too much fuss, but hopefully the short clip should give you plenty inspiration on what to do with the sounds in the bank.
Auroron is compatible with all Virus models from Virus Hardware to Virus PowerCore and Virus TI. The soundset is available for $19.95 USD.
Also released is the Hypernova Soundset, a collection of 128 patches by Kalle Windefalk for the Supernova synthesizer from Novation.
The soundset includes cool leads, beautiful keys, atmospheric pads and classic sounds.
The sounds in the Hypernova soundset explores the complex envelope settings as well as the synthesizer's FX section. Many of the patches make use of the fx chain configuration to obtain beautiful atmospheric spaces. Also the comb filter is explored. Most unison patches doesn't use more than 2 voices so that everyone can experience the sounds with all Supernova versions (20-48 voices)

The sounds are not designed for any specific genre even though there are some classic EDM-style basses and trance leads.
Hypernova Soundset is also available for $19.95 USD.
Lastly, a free Harmless Soundset by Novaline Music is available as well.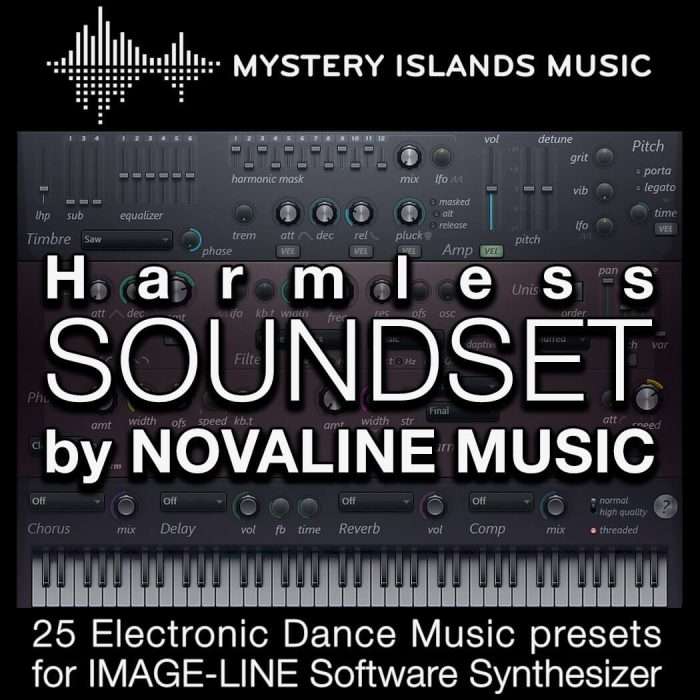 The soundset offers 25 patches that were made from scratch, including basses, FM, plucks and leads.
This VST is very cool for its sound and possibilty to make beautiful and very hard sounds with just ONE Oscilator.
If you are looking for a plugin to make guitar'ish, pluckish and spacey sounds, then this is the right choice!

All FX except of the sidechaining on two sounds are internal thats been used on this demo.
These sounds will blow your mind, and the best part of it is that i made it so you can easily tweak all knobs even more if you want to get any other sound in no time.
The Harmless Soundset is a free download at Mystery Islands.
More information: Mystery Islands Music