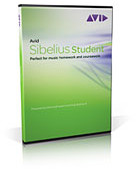 Avid has announced the release of Sibelius Student, a notation and composition software platform specifically designed for students in grades three through 12.
Based on the same popular software used by industry professionals, Sibelius Student offers a tightly packaged set of features designed to help students complete music theory assignments, compose pieces for real ensembles, score music to video and increase literacy in music notation, while providing teachers with specific features for classroom use and management.
New in Sibelius Student
Magnetic Layout

– Snaps score elements into position automatically, avoiding the need for time-consuming manual positioning and editing.

On-screen Keyboard window

– Enables young musicians to use the computer keyboard to compose, developing their familiarity with music notation via an easy-to-use interface modeled after a piano's keyboard.

Versions and Comments

– Saves multiple versions of a score within the same file and enables the addition of Post-It style sticky notes to saved versions, allowing development to be tracked over time and changes to be easily recalled.

Export audio files

– Empowers students to share scores as audio files by using the high quality virtual General MIDI sound module to convert compositions into audio, enabling easy sharing and collaboration.

Virtual instruments and effects support

– Supports the use of VST or Audio Unit virtual instruments or effects, providing for greater control and coloration of playback sounds.
Network Pack and Classroom Control
Sibelius Student is also available as a Network Pack, which includes 20 seats of Sibelius Student and a single copy of Sibelius 6 Professional Edition to help educators prepare lessons and supervise classroom work remotely. A Classroom Control panel in Sibelius 6 lets teachers control students' computers through the school's existing data network, and provides teachers the ability to send scores or worksheets to all students at once, freeze student's computers to gain attention, send out on-screen messages, and gather students' work into a single folder at the end of instruction.
Sibelius Student is now available to purchase for $99 USD. 20-Seat Network Packs are available for $1,499 USD.
More information: Sibelius / Sibelius Student