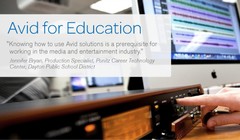 Avid has announced global academic pricing for Pro Tools version 9 and Sibelius version 6, giving college-level students, educators and academic institutions around the world up to 50 percent savings and access to the same music creation solutions used by top professionals in the production and recording industries.
Now, college-level students, teachers and educational institutions can purchase Pro Tools Academic for $295 USMSRP and Sibelius Academic for $295 USMSRP. Students purchasing Pro Tools Academic will also receive four years of free upgrades, allowing them to stay current on the industry's leading digital audio workstation for the ultimate competitive advantage when joining the workforce.

Additionally, current Pro Tools LE® Academic customers with Mbox® 2 series hardware or higher, and Pro Tools® M-Powered™ Academic customers, can crossgrade to the latest version of Pro Tools Academic for $125 USMSRP and $175 USMSRP, respectively. All student crossgrade customers receive four years of free upgrades as well.
Pro Tools Academic and Sibelius Academic are available now at Avid resellers worldwide. Sibelius Academic can also be purchased on the Avid webstore.
More information: Avid