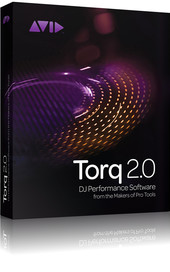 Avid has released version 2.0.2 of Torq, the DJ performance software for Windows and Mac.
Torq® 2.0 DJ software takes you beyond beat matching and into the future of DJ performance and real-time production. Don't just spin tracks—reinvent them. Take advantage of all four decks to create unique, complex, and dynamic mixes.
Changes in Torq v2.0.2
Support for the Numark NS6, MixTrack, and MixTrack Pro controllers.
Compatibility with OGG and FLAC audio formats.
Mapping fix to enable use and create mappings for multiple instances of single deck controllers. (i.e. Kontrol X1).
Fixes in handling fields in database.
"Scanning VST" window on popup now disabled by setting both VST directories to "No".
On/Off buttons now trigger on press and disengage upon release, to correctly emulate hardware characteristics.
Many more performance enhancements and fixes. Details in the changelog (PDF).
Torq is available to purchase for $249.99 USD.
More information: Avid