Spitfire Audio has announced availability of BBC Symphony Orchestra, an essential orchestral package in partnership with BBC Studios and in close collaboration with one of the world's most renowned orchestras.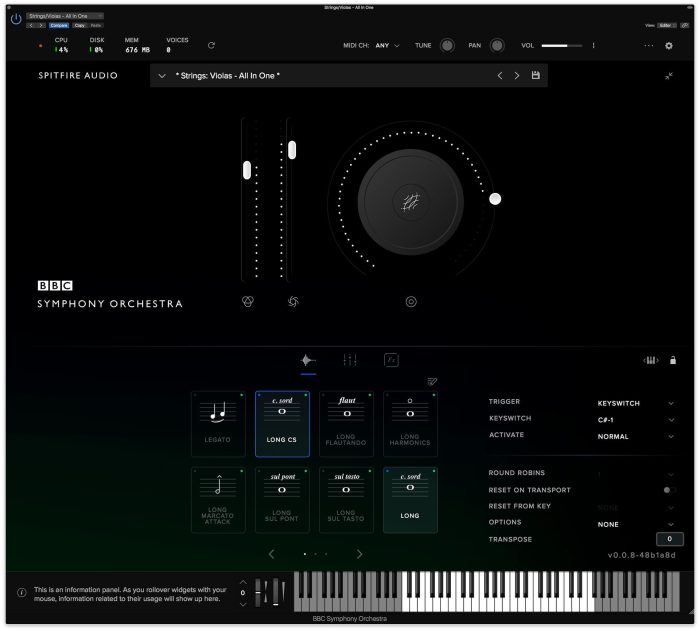 Orchestral samples have become an essential component of modern scoring, and the range of libraries available is vast. But what if a single product could become the universal starting point for a generation of composers?

We've taken over a decade of sampling experience to give you this comprehensive orchestral library of epic proportions — comprising over 200 hours of recordings, to give you a staggering 1,000,000+ samples at your fingertips, sounding exactly as they would if you had the orchestra in the room. We have recorded 55 different instruments on world-class Millennia preamps, including groups and soloists, 418 techniques including 33 legatos, for each melodic instrument.

With a beautiful, modern design by ustwo (Monument Valley, DICE), BBC Symphony Orchestra is housed in our award-winning standalone plugin (VST2, VST3, AU, AAX & NKS ready) developed primarily for composers, by composers — easy to use, intuitive and inspiring.
BBC Symphony Orchestra is on sale for the intro price of £679 GBP/$749 USD/749 EUR until November 7th, 2019 (regular £899 GBP/$899 USD/899 EUR). Prices incl. VAT where applicable. At an additional charge you can also have it delivered to you on a 1TB SSD, for instant playability.
Spitfire Audio has also announced The Page, a brand new concept centered on building a singular knowledge resource for its community.
Christian Henson has this to say:
"A few weeks ago, we announced our most ambitious project to date — one orchestra, one plug-in. A universal starting point. A means in which we can truly collaborate and learn from one another. Music has always been about coming together and sharing, and we want to take that into the modern age. But we can't do that alone. This is where we need your help.

We've built a thing, but we don't know what it's going to become, because we want you to define that. The Page is literally a blank page at the moment, but we hope and dream that it will be a place for people to congregate, collaborate, share, and learn — whether it be from content we make or, indeed, us just aggregating content elsewhere.

We want to make new YouTube stars — whatever you contribute, you will have the full power of the machinery of Spitfire Audio and this incredible community of hundreds of thousands of composers globally."
More information: Spitfire Audio