Beat has announced a giveaway contest in which you get a chance to win the Elite Acoustics StompMix 4 mixer with powerful effects.
This compact digital mixer is interesting not only for singers/songwriters, but also provides good help for the electro faction at a jam or live gig.
Like all Elite Acoustics products, this very compact digital mixer in pedal format is primarily aimed at guitarists; however, the extensive features in the robust housing also make this little box interesting for keyboardists, producers and live performers who want to mix and add effects to their instruments on stage with little baggage and effort. In principle, even StompMix and a few active monitor boxes are enough to provide sound for smaller rooms with several instruments and vocals.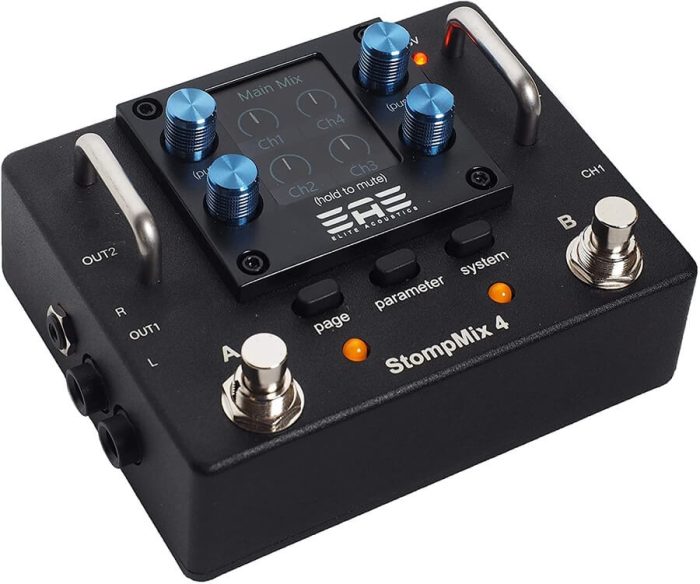 You have access to the built-in DSP effects via the menus, where the focus was more on quality than quantity.
A 3-band equalizer with parametric mids provides equalization of the input signal, supplemented by a notch/high-pass filter. Compressor and gate are especially helpful when using microphones, but also whip analog synthesizers and drum machines into shape. The delay effect can be assigned to a selected channel, while the reverb can be fed as a global send effect in individual amounts from each input.
You can change various parameters of the effects. All four controls are always included and their function and current value are shown on the display. This is all very practically solved; the effects also sound very good throughout and refine both synthesizer and vocals or guitar.
StompMix 4 is a very robust and extremely compact digital mixer with four inputs and outputs. Whether used as an uncomplicated submixer with built-in effects and the ability to switch pre-programmed mixer settings via foot-switch, or as the main mixer for a small setup with synthesizer, drum machine, acoustic instrument, vocals and active monitor boxes: StompMix 4 always impresses with its practical features, simple operation and very good sound.
With the current Beat Giveaway you have the chance to win a StompMix 4 by Elite Acoustics until the end of January 2021.