BeatSkillz has announced the release of its new audio plugin SampleX, an emulation that brings the gritty sound of vintage samplers.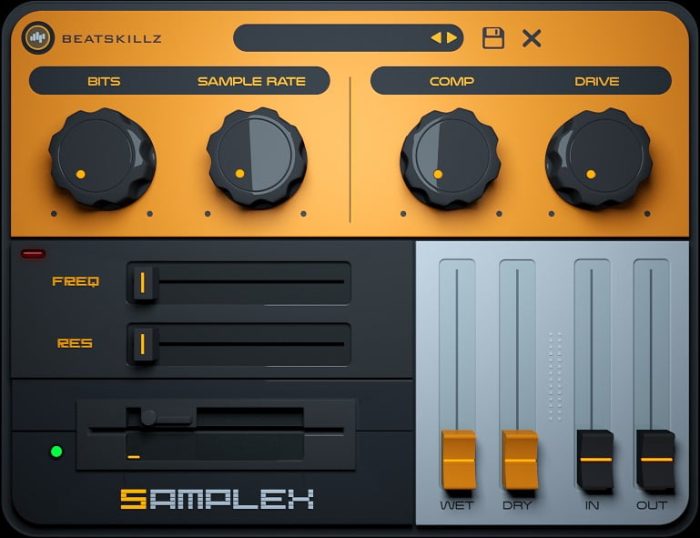 In today's advanced age of music tools that seek the "cleanest", most "perfect" sounds, there has suddenly been a desire for the "Gritty" sounds of the machines of the past.

Once such quest has been the acquisition of old, primitive samplers and sample drum machines like the EMU SP1200, AKAI s900/950, and others. This has increased the rate of these machines to 10s of thousands of dollars.

The sound that producers and artists seek in these boxes is usually the low bit rates and sample rates resulting in an "aliased" sound or "artifacts" as we now call them. These limitations of the vintage machines have now become very desired and sought after sound. Just sample rate reduction and "Bit crushers" have yet to actually sound like old machines.
SampleX features
Emulate any Vintage sampler by using the key controls which actually shape the sound of those units.
Create the true desired "aliasing without changing the pitch of a sample with the Shift control.
Accurately modelled Input Drive of the s900, a major part of the vintage sampler sound being sought.
An accurate model of the famous Ladder Filter with resonance.
Dial-in any sample rate from 96khz down to 2 kHz, reduce bit rate up to 4 bits.
Blend in the dry sound and have total control on the amount of "effect".
"Type" in the values for more accurate control and sound shaping.
Multiple carefully "ear" matched vintage sampler emulation models included in the presets.
SampleX is available in VST3, AU and AAX plugin formats. It is on sale at Plugin Boutique for the intro price of $39 USD until June 13th, 2020 (regular $69 USD).
More information: BeatSkillz