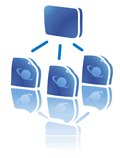 Bela D Media has announced the release of DLV (Download Versions), customized LE products created from the Bela D Media catalog.
All DLV versions maintain the very same high quality of the full version counterpart. There are no stretched zones, bit reduction alterations or EULA limitations. In some instances, you will also be able to take hold of a full version. All digital downloads are secure and instant.
DLV products can be upgraded to the full version, by paying the difference between the price of the DLV and the full product. All full versions upgrades are shipped via hard copy DVD.
Visit Bela D Media for more information.