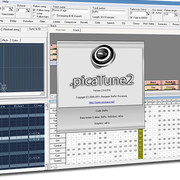 Benjamin 'BeRo' Rosseaux has released Picatune 2, a standalone synthesizer sequencer hybrid for Windows.
Finally available for your home computer:
The ♥farbrausch♥ software synthesizer sequencer – programmed by Benjamin »BeRo« Rosseaux.
Picatune 2 features
Many different oscillator waveforms, filters, distortions and a lot of other stuff.
Freeform sampleexact modulaton patternbased envelopes (the main reason why Picatune2 may use slightly more CPU time than other comparable synths)<.
Modular operator-based (like .werkkzeug).
S3M/IT-like effect commands.
Sample exact modulations.
Sample support.
Speech synthesizer.
PADsynth algorithm.
10-band equalizer.
Multithreaded for muklticore systems.
Export song as win32 executable.
… and a whole lotta more for you to discover!
Picatune 2 is available to download at no cost.
More information: Benjamin Rosseaux / Picatune 2