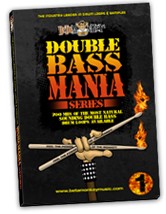 Beta Monkey Media has introduced Double Bass Mania I: Reloaded, an updated edition of the drum loops sample library.
Bigger. Louder. Faster. Double Bass Mania I metal drum loops are all-new for 2013. New content from start to finish – new sounds, new samples, and new grooves. We took the pure metal spirit of the original Double Bass Mania I and gave it a complete sonic and groove upgrade. Simply put, it's bigger, louder, and faster – not to mention, heavier, more aggressive, and unrelenting. Drive your metal drum tracks hard with the all-new re-release of Double Bass Mania I.

With 1300+ metal drum loops, Double Bass Mania I captures the energy and power of classic metal up through modern metal genres. Heavy double bass drum grooves, blistering double-bass runs, half-time and double-time groove variations, fills, and a matching single hit sample set, Double Bass Mania is your only real choice for creating the fastest, heaviest and angriest metal drum tracks.
The sample library is available for the introductory price of $29.99 USD until March 17th, 2013.
More information: Beta Monkey / Double Bass Mania I: Reloaded