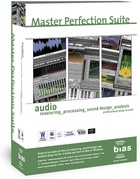 BIAS has announced that all six professional audio processing plug-ins from the Master Perfection Suite, will also be available separately as retail editions.
The Master Perfection Suite is aimed at musicians, recording and mastering engineers, audio and video editors, sound designers and other audio professionals. These value packed plug-ins include: Repli-Q (spectral matching), PitchCraft (pitch correction/manipulation), Reveal (analysis), Sqweez-3 & -5 (multi-band dynamic processing), SuperFreq (paragraphic EQ), and GateEx (gate/expander).
Master Perfection Suite features
The Master Perfection single editions are available for download, ranging in price from $59 USD to $149 USD.
Visit BIAS for more information.