Big Fish Audio has announced the release of Pop Rock and Big Bad Horns, two new titles in the Xtended Series sample libraries.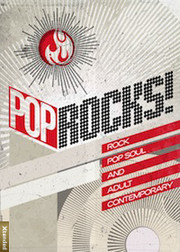 Pop Rock features construction kits for rock, pop soul, and adult contemporary.
Unleash the new breed of explosive power, artful hooks, melodic anthems, and quirky twists and turns that make up today's Rock, Pop Soul, and Adult Contemporary music.

This massive 2 DVD, 11 GB collection (5.9 GB of 24-bit WAV files) is a showcase of groups like The Fray, Adele, One Republic, Sara Bareilles, The Script, Snow Patrol, Regina Spektor and Train.

This library contains 15 kits packed full of luscious guitars, gorgeous background vocals, soulful drums, pounding bass, quirky pianos, ambient guitars, smooth organs, lush pads, and so many more instruments that allow you to harness the creative essence of today's Top 40 music scene. Feed the inner fire, and let the emotional conviction of today's Rock, Pop Soul, and Adult Contemporary music spark your raw creative flames and inject your tracks with the raw emotional power of today's hottest music.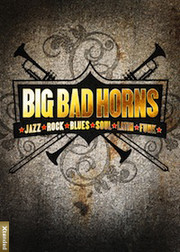 Big Bad Horns features a collection of modern and classic horn band construction kits.
Born out of the wild, raw power, and elegant fury of molten metal, Big Bad Horns emerges with the raw and rockin sounds of Modern and Classic Horn Band legends.

This massive 2 DVD, 12.9 GB library (6.6 GB of 24-bit WAV files) is a tribute to groups like Harry Connick Jr, Maroon 5, Tower of Power, Count Basie Big Band, Chicago, Mark Anthony, Glen Miller Orchestra, Blood Sweat and Tears, Ohio Players and a host of others. This library is a powerful punch of jazz, rock, blues, soul, latin, and funk and is filled to the brim with sax, trumpet and trombone sections, solo trumpet, sax, clarinet and trombone, raging and jazzy electric guitars, pounding and swingin drums, boppin and thumpin upright and electric bass, soulful pianos and organs, and way too many spit valves to mention!

Big Bad Horns will energize your music tracks with crackling kits of jazz, rock, blues, soul, latin and funk, all ready to combust and give your tracks the untamed attitude that only live horn players can give you. So go ahead and feel the explosive power, inject your songs with the sizzling sounds of Big Bad Horns.
The sample libraries are available to purchase for $129.95 USD each.
More information: Big Fish Audio