Big Fish Audio has announced the Xtended Series, a new series of sample libraries.
The Xtended Series from Big Fish Audio is your new standard for creating music on your terms. This inspired series allows you to unleash the creative artist within by providing complete creative freedom over your music production.

The Xtended Series delivers massive construction kits, giving you complete access to vast libraries with multiple song style sections and an almost limitless amount of variations. Each Library comes with the detail, quality and authentic content that you've come to expect from Big Fish Audio. Master your creativity with the Xtended Series.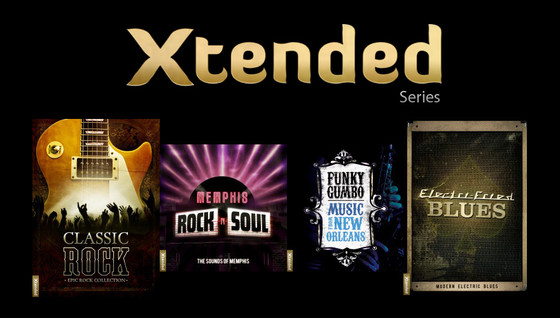 Big Fish Audio Xtended Series
Classic Rock

— Epic Classic Rock construction kits
Take a step back to the rock classics where the kings of rock ruled with a high octane gravity that could tear out your heart and charge up your soul with licks so hot they burned right through the musical barriers.

Rock n Soul: The sounds of Memphis

— Rock n Roll, Blues and Soul construction kits
Memphis. It's the home of the Blues, where Rock n Roll is king and where Soul comes alive. This Massive collection is crammed full with the Kings of the Memphis Sound. Johnny Cash, Carl Perkins, Jerry Lee Lewis, and of course Elvis, the king himself come alive through the vision of Sun Records and give birth to Rock n Roll. Muddy Waters and B.B King push the boundaries of the Blues tradition and Stax records finds its Soul through Issac Hayes, Otis Redding, Sam and Dave.

Funky Gumbo: Music from New Orleans

— Brass Band, Dixeland Jazz, New Orleans Funk, Blues, and Zydeco construction kits
nfusion your tracks with the sweet and spicy sounds of New Orleans. This scrumptious collection of Brass Band, Dixeland Jazz, New Orleans Funk, Blues and Zydeco lets you have it all with a Massive collection of 7.04 GB (3.95 GB of 24-bit WAV files) of hand-crafted loops. Funky Gumbo captures the amalgamation of rich cultures that make up the very heart and soul of this great city and distills it into a fiery collection of construction kits so hot you'll beg for water.

Electri-Fried Blues

— Modern Electric Blues construction kits
Drown yourself in the pure, raw power of electric-infused blues music. Let the energy course through your soul and send sizzling bursts of high-voltage sound down your spine. With the ravenous glow of the tube amplifier set to explode, you are ready to begin a journey that will take you through to the modern era of blues music doused in fire.
Classic Rock and Electri-Fried Blues are now available to pre-order for $129.95 USD.
More information: Big Fish Audio