Previously in public beta, Bitwig has announced the release of Bitwig Studio 2.4, the latest version of its music production software for Windows, Mac and Linux.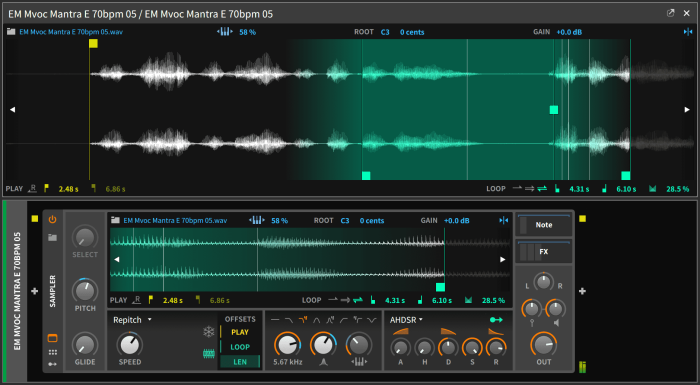 Bitwig Studio 2.4 features our Sampler reborn. Now equipped with granular and wavetable techniques, new sounds are at your fingertips and performance-ready.

Throw in visual crossfading and a revamped multisample editor, and Sampler has gone from trusted sideman to solo act.
Coinciding with the update, Bitwig has also launched unique collaboration between Bitwig, Reverb.com, and influential Detroit producer Claude Young.
Claude Young – Cinematic Synth Sounds merges Claude's own samples and presets made in collaboration with Bitwig. The results are evocative, warm sounds, animated by Bitwig Studio 2.4's revamped Sampler. Ready to lend subtle emotion to any track, this package shows what can be achieved with solid audio, modern digital tools, and musical taste.
Changes in Bitwig Studio 2.4
Sampler overhaul.
Extended MIDI channel support.
New modulators: ParSeq-8, Note Counter.
New devices: Note FX Layer, Channel Filter, Channel Map.
Resizable tracks in Mix view.
Resizable scenes in Arrange view.
Colorable scenes.
Controller take-over modes.
On-screen controller visualization.
Interaction-based hints.
New quick start templates.
Modulation workflow enhancements.
New artist package: Claude Young – Cinematic Synth Sounds.
Bitwig Studio is available for $399 USD / 379 EUR. The update is free for users with the Bitwig Studio Upgrade Plan.
More information: Bitwig