Bitwig has announced version 2.2 of its Bitwig Studio music production software.
The update features support for Ableton Link, allowing Bitwig Studio to sync perfectly and effortlessly to a multitude of software solutions, including an entire ecosystem of mobile apps. Also included in version 2.2 are some new devices and modulators, a new display profile, an on-screen keyboard panel and a lot of fixes and improvements.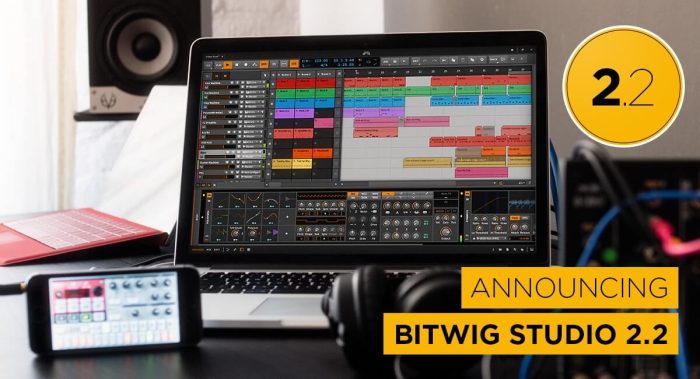 Ableton Link
Bitwig Studio offers a number of ways to integrate with other technology: MIDI, MIDI Clock Master/Slave, MTC, CV & Gate and hardware audio clock; Ableton Link is the latest addition to this versatile feature set.
Link enables musicians to play in sync together across various software applications, platforms and mobile devices. Bitwig Studio 2.2 will support Ableton's Link technology out of the box, allowing users to connect multiple instances of Bitwig Studio via network connection (Wi-Fi and Ethernet), and to a vast range of music software such as Ableton Live, Reason, NI Traktor, NI Maschine and Serato DJ, as well as a growing number of iOS and Android apps.
Time Shift device
This device allows for fine-grained time adjustments anywhere in your device chain, useful for getting things in time or as a creative tool in the mixing process.
New Modulators
Bitwig Studio 2.2 comes with four new modulator devices. Three of them are designed to transform other modulation signals in numerous exiting ways, and with the Audio Rate modulator you can do true audio rate frequency modulation.
Polynom: The Polynom allows you to feed modulation signals into a mathematical formula (y(x) = x⁰+x¹ +x²+x³) to achieve sophisticated and flexible transformations.
Quantize: Reshape any modulation signal and give an edge to smooth curves with the Quantize modulator.
Sample and Hold: A real classic in the analog synth world, the Sample and Hold modulator introduces chaos and breathes life into your modulation setup—randomized or ordered.
Audio rate: Grab any audio signal in your project as a modulation source. The power of true audio rate modulation at your fingertips.
Onscreen keyboard panel
This input panel is now available on more display profiles. It's a handy way to play notes directly on screen, using touch screen or mouse. It allows for multidimensional polyphonic expression (or MPE) input and doubles as a visualization of note playback.
Dual Display (studio/touch)
Connect a touch screen to your existing setup and enjoy the best of both worlds: excellent touch input optimization on one screen, and full feature view on the other.
Sound content
Alongside the Bitwig Studio 2.2 launch we're proud to announce a major sound content update. We're adding 3+ GB of multi-sampled instruments and presets. Rare organs and piano will make keyboardists and lovers of harmony and melody happy, plus we're including legendary 606 drum machine sounds sampled by our friends at Radium. This sound content update is free for all Bitwig Studio license holders with an active upgrade plan.
Bitwig Studio 2.2 is now available for beta testing for all Bitwig Studio 2 license holders. The final version is scheduled for release in October 2017.
Upon launch, Bitwig Studio 2.2 will be available as a free update for all Bitwig Studio 2 license holders with an active upgrade plan.
A free demo version will be ready to try once Bitwig Studio 2.2 is released.
More information: Bitwig