Black Rooster Audio has announced Edelweiss'72, a highly dynamic mixing toolchain that allows surgical modifications to any signal or mix that might sound limply, needs subtle tweaking or a decent finish.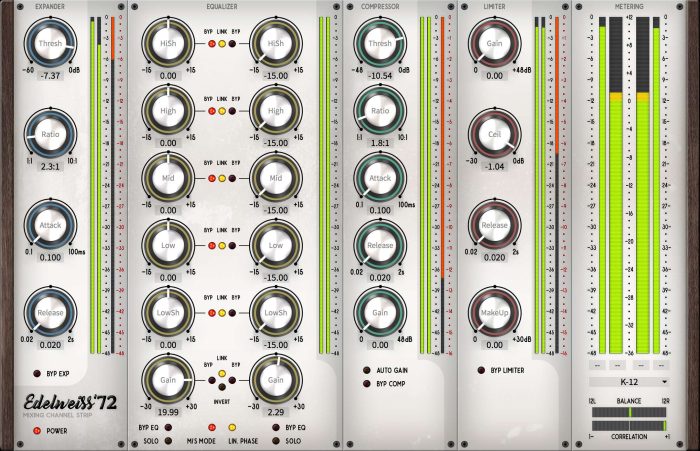 Where in the input stage you are able to expand the signal, that might be stressed by over-compression or needs a wider dynamic range, you can EQ your signals in 5 static bands, with linear-phase filters in regular stereo or M/S mode. A final compression/limiting stage will finish the overall process with a concentration of density made up with (auto) gain-stages at the end of each section.

We focussed on a variety of process-friendly bypass and soloing options, as well as proper K- and peak, balance and correlation metering in order to concede decent comparison workflows.
Edelweiss'72 features
Linear Phase M/S – EQ — The linear-phase approach for the EQ section of the plugin allows spotless control of the selected band/shelf, without any influence on the substantial energy-flow of the signal, that otherwise might cause noticeable phase incoherence and unwanted accentuation or attenuation at the band edges.
SSE2 optimized code — DSP operations are pipe-lined using the SSE2 instruction set. This ensures highest possible performance operation despite very complex computations.
HighDPI / Retina support — All Black Rooster Audio plug-ins support high pixel density on Mac OSX and Windows to bring you the most enjoyable user experience on high DPI displays. Please refer to your manual to find whether your DAW is HighDPI capable if you're working on Windows.
Edelweiss`72 is available for Windows and Mac in VST, AU and AAX plugin formats.
The plugin is available for an intro price of $129 USD (regular $179). A 14-day trial version can be downloaded from the Black Rooster website.
More information: Black Rooster Audio