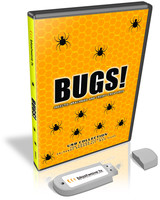 Blastwave FX has released Bugs!, a high definition sound effects library that will make your skin crawl.
With Bugs!, you get 700 sound effects that include ambiences, hives, hisses, and movements; from ants to hornets and worms to hissing cockroaches, Bugs is a comprehensive insect collection that every editor should have in their library.
Bugs! features
Categories include Ambiences, Ants, Bees, Beetles, Cockroaches, Exterminations, Flies, Hornets, 5.1 Surround Sound Elements, And Much More.
Every sound was originally recorded at 24 bit 96k to ensure the highest quality for today's production needs and are ready to be plugged in to any production demanding high definition sound.
Bugs! is embedded with Metadata that is compatible with Pro Tools, Soundminer, NetMix, iTunes and other popular sound library search engines.
Bugs! is available to purchase on a USB Flash Drive, priced at $249 USD.
More information: Blastwave FX / Bugs!