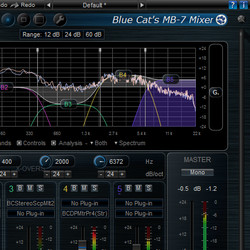 Blue Cat Audio has released version 2.1 of the MB-7 Mixer, a multi-band processing plug-in with VST hosting capabilities.
This new release mainly brings workflow enhancements, such as copy/paste capabilities, plug-ins layout restore, direct access to bypass and editor window, as well as plug-ins compatibility improvements.

The free broadband add-on skin has also been updated to include the new features and streamline the usage of the plug-in in single band (broadband) mode.
Changes in MB-7 v2.1
Bypass and display editor commands are now directly available from buttons in the plug-in slots.
Plug-ins editors can now be restored on open (position on screen is now saved in session and presets), with an option in the preferences to disable restoration.
Copy/paste plug-ins between slots using the system clipboard (you can copy paste between instances, or in different applications).
Copy/paste the plug-in's current state from the presets menu using the system clipboard.
"Center Plug-in Editor" command to bring back plug-ins editors that may be lost on the screen.
Improved support for plug-ins with multiple I/O configurations (the number of channels is now passed to the plug-ins).
(Mac) Inserted plug-ins window do not follow the MB-7 Mixer window anymore.
(Mac) plug-in version number is now available when using "Get Info" in the Finder.
Fixed: (Mac) RTAS version could cause some GUI issues in Pro Tools with some plug-ins (blank windows).
Fixed: (Mac) About window does not show up first in the corner of the screen.
Fixed: (Win) Alt-Click on a control now resets the value to default in Pro Tools, as expected.
The MB-7 Mixer plug-in is available to purchase for 99 EUR.
More information: Blue Cat Audio / MB-7 Mixer