Blue Cat Audio has released Blue Cat's Destructor, a comprehensive distortion and amp sim modeling plugin announced last month at the AES.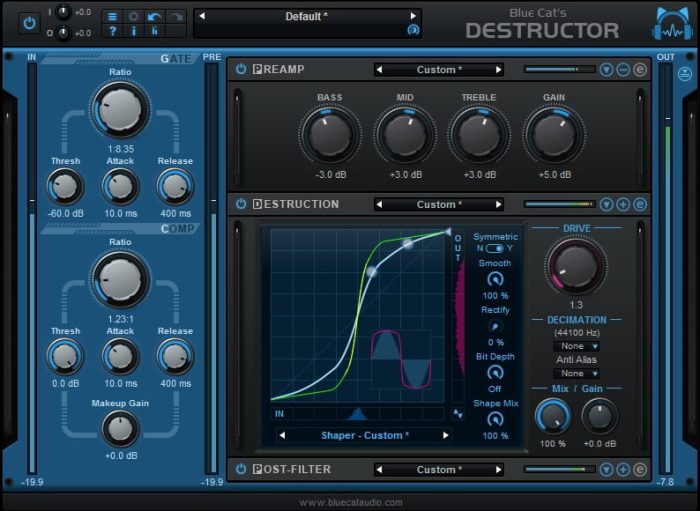 Offering a very wide range of tones and capabilities, this plug-in is more a "tone shaping channel strip" than just another guitar amp simulator. Delivered with hundreds of presets and predefined models for guitar, bass, drums, mixing or even mastering, the plug-in can emulate all sorts of non-linear processors, with effects ranging from tube compression or tape saturation to digital aliasing, and of course clean or overdriven guitar amp simulations.

"I really wanted something that would not only sound great, but also provide a realistic feeling while playing." says Guillaume Jeulin, founder and CEO of Blue Cat Audio. "It was also necessary to get back to the bare minimal signal chain, so that it is very easy to get the perfect tone right away for playing, and you can quickly modify it afterwards when mixing. The purpose of this plug-in is really to let you create your own tones, not just copy existing gear – and not be limited to guitar tones either. That's the reason for using a perceptual model rather than electronics simulations or impulse responses. It took 5 years to build, but I think it goes far beyond traditional simulations."
Blue Cat's Destructor features
Powerful distortion and amp modeling tool.
Simulate any kind of distortion: analog or digital, guitar and bass amps, saturation, clipping, compression, bit crushing…
Works for "clean" sounds too.
Get started with several hundreds of fully editable presets, inspired by real gear.
More than 1400 visual styles to customize the user experience.
Control the dynamics with the input gate and compressor.
Control the tone with the pre and post filters.
Exclusive shape dynamics control: adapt the tone to the dynamics of the signal.
Use the internal or external side chain to trigger the distortion.
Protect your ears with the output brickwall limiter.
Comprehensive visual feedback: real time spectrum analysis, dynamic distortion curve display with embedded signal histograms.
Load reference curves for tone matching.
No latency.
Blue Cat's Destructor is available for purchase at a 20% discount until 11 November, 2016. A demo of the plugin is available for download. Existing customers are granted an extra 10% discount during the introduction period.
Check out the Q&A session about Destructor with Blue Cat Audio's founder and CEO, Guillaume Jeulin.
More information: Blue Cat Audio / Blue Cat's Destructor