Blue Cat Audio has announced updates to its Axiom, Free Amp and Destructor distortion, amp simulation and guitar effects processors.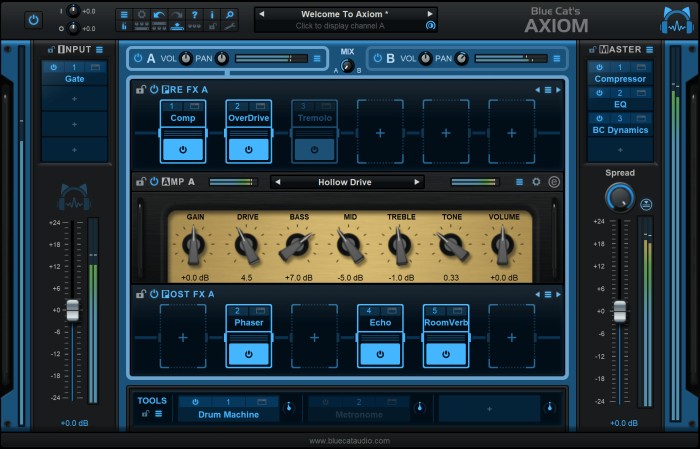 The new version of Axiom now supports drag and drop to quickly move, copy and insert effects and plugins anywhere in the signal chain. All three products now include an impulse response (IR) loader, to add color to the tone with custom cabinet or reverb impulse responses.
Changes in Axiom v1.1
Load impulse responses (IR) in pre or post filters of the amp simulator. The frequency response of IRs can be shifted and mixed together with the usual filter settings.
The built-in EQ plug-in can also load and manipulate impulse responses.
Drag and drop support.
Fixed "Joe's Bowl" factory preset that included an instance of PatchWork.
Changes in Destructor v1.4
Load custom impulse responses (cabinets, reverbs) into the pre or post filters.
Shape impulse responses in the edit view to match the perfect tone.
Changes in Free Amp v1.1
Load your own cabinet and reverb impulse responses.
Blue Cat Audio has also launched the Guitar Month, with promotions on guitar software (up to 25% off) until the end of October, a guitar solo contest with prizes worth $1,796 USD (until November 15th), and new free presets and tutorials.
Until November 1st, Blue Cat's Axiom is on sale for 149 USD/EUR (regular 199 USD/EUR). Destructor is 79 USD/EUR (regular 99 USD/EUR) and the Axe Pack bundle is 249 USD/EUR (regular 299 USD/EUR). Prices incl. VAT.
Blue Cat's Free Amp is a free download for Windows and macOS (VST/VST3/AU/AAX).
More information: Blue Cat Audio