Blue Cat Audio has released an update to Blue Cat's Late Replies, its creative delay and reverb plugin with built-in effects, capable of hosting third party plugins anywhere in the signal chain.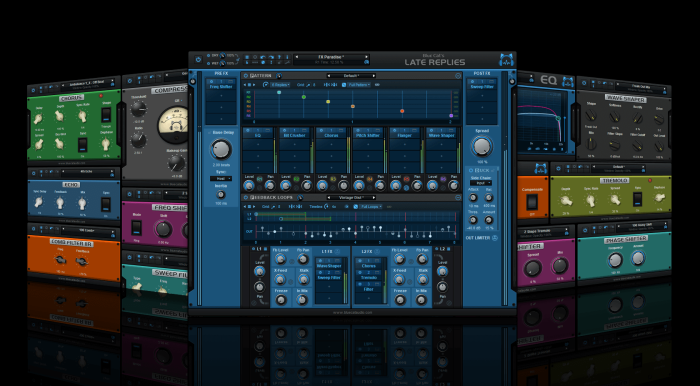 This new version adds hundreds of new presets and sub-presets that can now be discovered and searched with a new presets browser, among the 957 included factory patches (echoes, reverbs, vintage delays, rhythmic patterns, arpeggiators, modulation effects, shimmer effects, drones, sci-fi…). The new presets browser was also designed to make the creation of new effects easier, combining sub-presets from each module together to create more complex sounds very quickly.
Late Replies 1.4 also adds two new built-in effects, increasing Late Replies' built-in plug-ins collection up to 30. It comes with many other improvements and fixes.
Changes in Late Replies v1.4
New presets (and sub-presets) browser with built-in search.
Added more than 100 presets and sub-presets including reverbs, modulation effects, vintage delays & reverbs, special effects… (Late Replies now has [b]more than 500 global presets[/b] and hundreds of sub-presets)
PRE and POST effects strips now have their own presets.
MIDI Program Change preference is now saved into session instead of global preferences, so each instance can now use different MIDI channels. It is also saved in the user default preset.
VST3: added program change support for VST3 plug-in format.
VST3: added MIDI output support for VST3 plug-in format.
Built-in plug-ins:
New Level (volume control) and Micro EQ built-in plug-ins.
Added a gain parameter to several built-in plug-ins to avoid volume changes when switched on/off (pitch and frequency shifters, modulation effects, delays).
Increased knobs precision for pitch shifter and waveshaper built-in plug-ins for smoother control.
Third party plug-ins host:
VST and VST3 plug-ins previously displayed as missing because of name changes are now relocated automatically (Waves major updates, 32 and 64-bit plug-ins with different names etc.)
Improved auto-relocation performance when a large number of plug-ins have moved.
VST3 Host: added MIDI output and program change support for recenlty updated VST3 plug-ins.
Other fixes and improvements:
Fixed an issue with hosted plug-ins editors not always restored in the right position in Cubase on Windows.
VST: the user interface is now properly resized in Cubase on Windows.
Mac: fixed issue with Magic Mouse that could trigger drag and drop instead of mouse click.
Spectrum analyzer display of built-in EQ will not take priority over DAW or other plug-ins user interfaces.
Changing the slope of lowpass and highpass filters in the built-in EQ is now smoother.
Miscellaneous user interface performance improvements.
Late Replies is on sale for $99 USD / 99 EUR until July 21st, 2019 (regular 129 USD/EUR). The free update can be downloaded to existing customers from the same location as the original full version (link received by email upon purchase).
More information: Blue Cat Audio