Bolder Sounds has announced Dan Tranh, a new instrument library for Native Instruments Kontakt, featuring the sounds of a 16 stringed Vietnamese zither, a relative of the Chinese guzheng and the Japanese koto.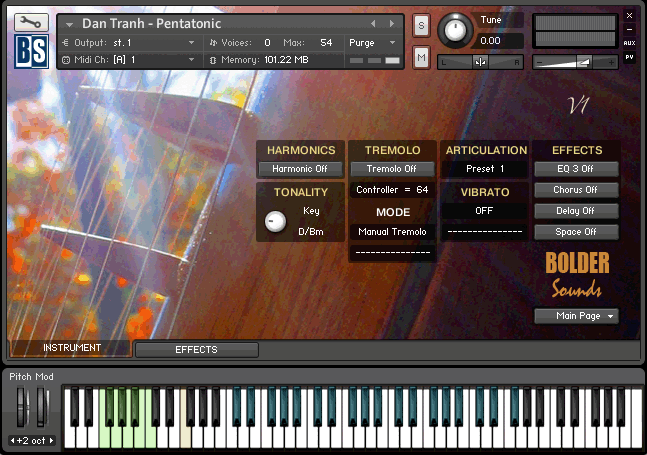 The standard tuning of the Dan Tranh is the major pentatonic scale. Bolder presents both pentatonic and chromatic versions of this instrument. The Dan Tranh was sampled by retuning to each half step in order to create the chromatic version of this instrument.

Flexible KSP scripting by Bo Clausen makes it possible to emulate a wide range of bending ornaments as well as glissandi.
Dan Tranh features
Chromatically sampled from C2 to C5, with 3 x Round Robin and 6 velocity layers. Harmonic samples and extra bonus natural vibrato samples.
Two Tremolo Modes – either Auto Tremolo or Manual Tremolo. In Auto Tremolo Mode the selected CC# controls the volume, adds speed as well as a random velocity range.
An advanced Articulation page where you can save all the different articulation settings as Presets and then recall them via Key Switches.
Automatic Pitch Bend range according to the played note and the pentatonic scale. It's only the last played note that is bent. The Pitch Bend can also have a vibrato fade in, when the Pitch Wheel reaches its target.
The Vibrato can either be Auto Vibrato or Manual Vibrato. The vibrato is only added to the last played note, and you may select between various vibrato waveforms.
A Key Switch Page where you can freely assign which key will trigger the various Key Switches.
Four freely selectable Skins (wallpapers).
8 different effects – each with its own Preset menu, so you can save and recall all the various parameters.
Three different instrument layout styles – Pentatonic – Chromatic and Keyboard.
The Dan Tranh library is available for the introductory price of $42 USD until January 1st, 2015 (30% off regular).
More information: Bolder Sounds / Dan Tranh