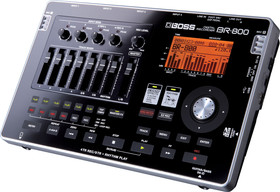 BOSS has announced the BR-800, a complete portable music-production solution.
The sleek new design is made possible by touch-sensor switches and SD-card recording media. Up to four tracks can be recorded or eight tracks played back simultaneously, plus an additional stereo track dedicated to the built-in rhythm generator.

Whether you're creating intricate, multi-layered songs or point-and-capture field recordings, the BR-800 makes the recording process fast and easy. Beginners will love the new EZ Recording mode that interactively guides you through the recording process. Other helpful features include the convenient RETRY function, which re-cues automatically to fix mistakes, and SONG SKETCH recording for instant, one-touch capture. There's also a built-in stereo condenser microphone, plus a DR-880-quality rhythm generator for adding drum and percussion tracks to your songs.
Boss BR-800 features
4-track simultaneous recording, 8-track simultaneous playback plus dedicated stereo rhythm track playback.
EZ Recording interactively guides through the recording process.
Powerful guitar, bass, and vocal effects derived from BOSS's flagship processors.
Song Sketch recording for quick stereo capture in WAV format.
Built-in advanced drum machine with editor software.
Functions as a USB audio interface and DAW control surface.
Cakewalk SONAR 8.5 LE software with full audio loops and backing tracks included.
Built-in stereo condenser microphone for instant recording.
Sleek new interface based on touch sensors.
1GB SD included (supports up to 32GB SDHC card).
Runs on six AA batteries/USB bus power/AC adaptor (included).
The BR-800 is expected to be available in May with an MSRP of $525 USD.