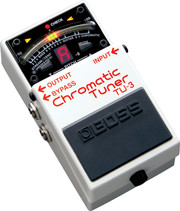 BOSS has announced the TU-3 Chromatic Tuner, an updated version of the pedalboard standard TU-2.
The TU-3 is the stompbox tuner for the next generation of guitarists and bassists, retaining all the features of its predecessor while adding many new tricks of its own.

Housed in a rugged BOSS stompbox chassis, the TU-3 is built to last. The new high-brightness meter mode improves visibility under bright sunlight, and a newly-designed 21-segment meter light ensures super accurate and visable tuning. The proprietary BOSS Accu-Pitch function visually verifies when the target pitch is attained. The sound output is muted while the tuner is on, allowing players to tune silently on stage.

Tuning modes include Chromatic and Guitar/Bass, which allows players to tune by string number, now with support for seven-string guitars and six-string basses. The TU-3's LED meter and arrow indicators clearly show when the instrument is in tune, with two different display modes to choose from.

To address the growing popularity of drop tunings in metal and hard rock music styles, Flat Tuning mode allows players to calibrate the TU-3 for tunings up to six half-steps below standard pitch. The tuner's reference pitch can be adjusted as well, over a range of 436-445Hz.
The TU-3 will be shipping in January with a retail price of $160.50 USD.
More information: Boss