BOSS has announces the DC-2W Dimension C and MT-2W Metal Zone, the latest additions to the acclaimed Waza Craft lineup of premium compact pedals.
Like all Waza Craft models, the new pedals feature original BOSS analog designs that have been infused with artful refinements for enhanced performance and versatility. With the introduction of the DC-2W and MT-2W, the Waza Craft series now expands to include eight unique models.
DC-2W Dimension C
The DC-2W Dimension C ushers in the return of two legendary BOSS and Roland effects from the 1980s.
Designed in the Waza Craft analog tradition, the DC-2W offers not just a perfect sonic recreation of the original DC-2 Dimension C pedal, but also the legendary SDD-320 Dimension D studio rack effect it was based on.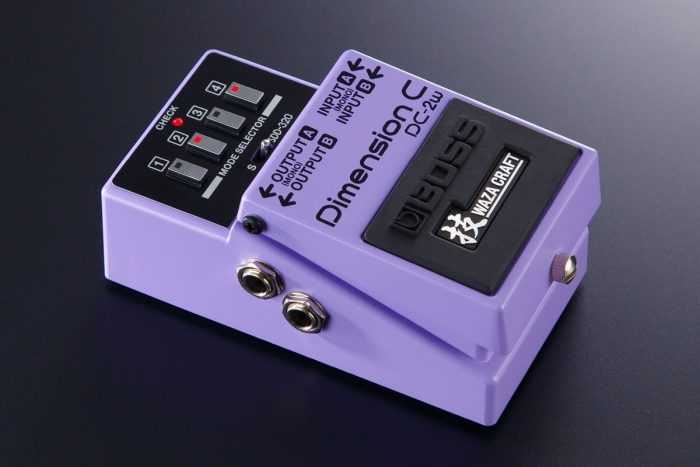 The Dimension's unique spatial processing magically enhances the width and depth of any sound, from electric and acoustic guitars to keyboards, vocals, and other sources. A go-to "secret weapon" for audio engineers and music producers around the world, the Dimension sound can be heard on countless classic records, and is still regularly used today. Built from the original circuit designs and updated with modern refinements, the DC-2W is the only pedal available that delivers the vintage Dimension experience with complete sonic authenticity.
DC-2W users can choose between DC-2 and SDD-320 modes with a panel switch. The pedal provides the same intuitive four-button preset interface found on the original effects, now evolved with electronic switching that unlocks sonic variations not available on the vintage units. Across the DC-2W's two effect modes, 20 different Dimension variations are possible with just four switches.
DC-2W Dimension C features
Premium Waza Craft pedal with all-analog audio circuitry.
Standard mode provides the sound of the original DC-2 Dimension C pedal.
SDD-320 mode authentically reproduces the vintage Roland SDD-320 Dimension D, a legendary studio rack effect heard on countless hit records.
Iconic four-button preset interface, updated with reliable electronic switches and LED status indicators.
Four main sounds in each mode, plus six variations by pressing two switches together (20 total sounds available).
Premium buffer and enhanced bypass circuitry.
Versatile I/O for integrating with any mono or stereo application, from guitar and bass pedalboards to keyboards and studio mixing.
Made in Japan.
BOSS five-year warranty.
MT-2 Metal Zone
First released in 1991 and in continuous production ever since, the MT-2 Metal Zone is loved by guitarists everywhere for its thick, rich distortion and distinctive mid-focused tone.
Infused with Waza Craft mojo, the MT-2W takes the iconic stomp to new levels of tonal range and versatility.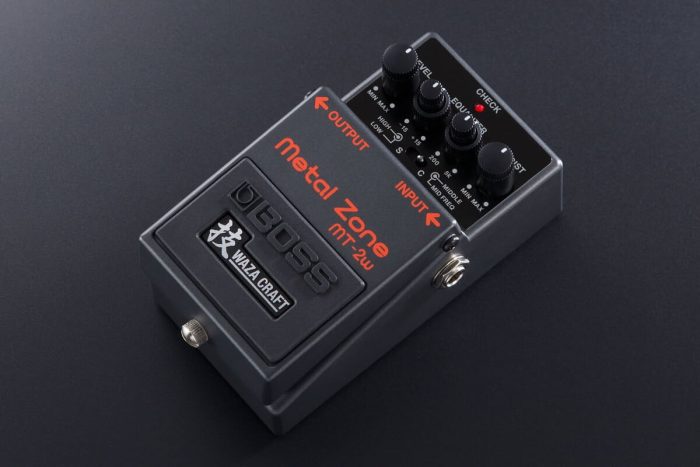 The MT-2W features a dual-stage gain circuit enhanced with discrete analog components, plus a refined EQ circuit with smoother midrange tone and unique Q values specially tuned for the pedal's two operation modes.
The MT-2W's Standard mode delivers an evolved version of the original mid-focused Metal Zone tone, while Custom mode introduces a fresh, wide-ranging voice that's perfectly suited for today's diverse high-gain styles.
MT-2 Metal Zone features
Premium Waza Craft pedal with all-analog audio circuitry.
Innovative dual-stage gain circuit built with discrete analog components.
Standard mode updates the famous MT-2 Metal Zone sound with improved clarity and lower noise.
Custom mode delivers full-throttle gain tones with wider range, increased dynamics, and tighter low end.
Powerful three-band EQ provides intense sound customization with High, Low, and sweepable Midrange and up to 15 dB boost/cut on each band.
Premium buffer for clean and clear tone when bypassed.
Made in Japan.
BOSS five-year warranty.
The DC-2W and MT-2W cost $229.99 USD and $149.99 USD, respectively.
More information: BOSS