Plugin Boutique has launched an exclusive sale on Little Clipper by Boz Digital Labs, offering over 95% off on the clipper effect plugin for Windows and Mac.
Little Clipper includes all the features you need from a clipper, and lays it out in a way that makes it simple to dial in.

Why make a clipper when there are already so many?

Little Clipper is the lighter, smaller version of its big brother (Big Clipper). Clipping is one of the more misunderstood processes in mixing. When used correctly, it can make mixing easier. Things just fall into place better and dynamics stay under control. As it is with all effects, however, it's easy to overdo. Little Clipper makes it easy to dial in with clear meters that show you how much clipping is occurring, and all the essential features that let you dial in your clipping to be just the right amount.
Little Clipper features
Hard/Soft Clipping.
Intuitive Input Gain and Ceiling controls.
Mix knob for blending your dry sound back in.
Multiple stereo configurations for clipping stereo buses.
Little Clipper is on sale for only £1 GBP / $1 USD until September 17th, 2018. It is available for Windows and Mac in VST/VST3, AU, RTAS and AAX plugin formats.
Owners of Little Clipper can upgrade to Big Clipper at a 80% discount during the sale as well.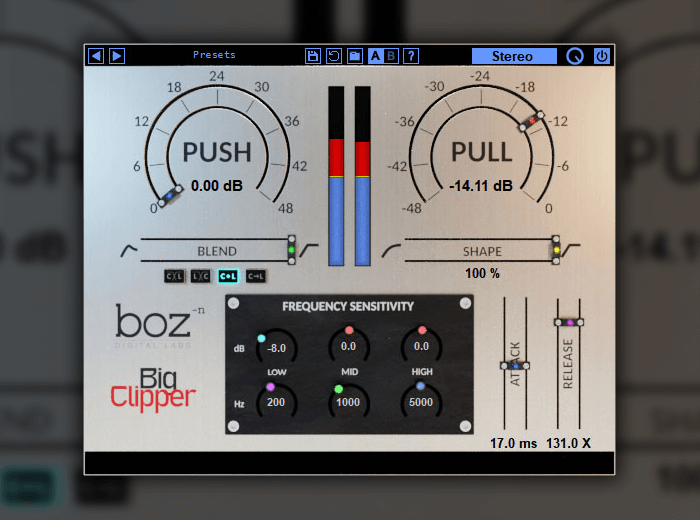 This hybrid clipper/limiter featuring 4 blending modes and frequency sensitivity control.
Big Clipper is what you get when you take a clipper and inject it with growth hormones, and then add a little extra MSG on top.

Clipping is a great way to transparently control the peaks of your tracks. When done subtly, clipping will make compressors and reverb sound more natural down the line, and give your mix an overall cohesive feel. But clippers have one glaring issue: They really fall apart when you push them too hard. There seems to be a very thin line between adding cohesion and breaking apart into a distorted mess. That's where Big Clipper comes in. Big Clipper gives you the controls to be able to push it hard without breaking apart. Whether you need subtle clipping or heavy overdrive, Big Clipper handles it with ease.
Big Clipper is on sale for only £23.95 GBP / $29 USD during the sale.
More information: Boz Digital Labs