Brainspawn has announced the release of Forte 4, a performance oriented VST plugin host for Windows.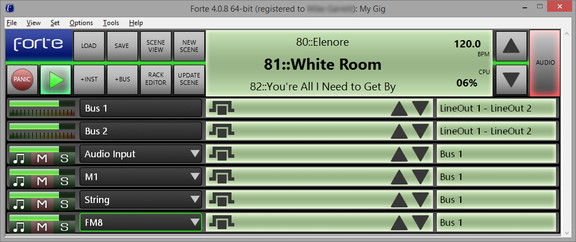 We are pleased to announce the next major version of Forte software. Forte 4 is now ready and contains dozens of usability and performance improvements.
Changes in Forte 4
Simplified and better looking SceneView.
Simplified and improved usability of tempo and transport features.
Scene/Set Browser.
Completely redesigned rack modules.
Dynamic Transpose: Transpose up or down in real time from SceneView.
Configure Transpose per scene, per song, per set.
Each Scene now has settings for MIDI Sync, BPM, play/start bar, rewind on stop, meter, and fade time.
Cue Images: assign SceneView images to songs or scenes within a set. Even assign different images to the same scene used in different songs.
Bus Adjustment Mix in SceneView.
Completely new rack/scene editor.
Completely new Global MIDI Automation editor.
…and many other things.
Forte 4 for Windows is available for an introductory price of $99 USD (Preformer) / $299 USD (Producer).
Visit Brainspawn for more information.