Plugin Alliance has announced the release of Brainworx's new audio plugin bx_limiter True Peak, designed from the ground up to be the ideal true peak limiter.
bx_limiter TP (True Peak) from Brainworx is a completely new design, crafted to avoid the shortcomings of existing true peak limiters. Use it to confidently hit your loudness targets without leaving behind any distortion-inducing inter-sample peaks, and without compromising on the sound quality of your masters.
The limiter uses "Selective Oversampling" (SOS) to employ oversampling only where it actually improves the signal, and to avoid it where it has been found to compromise the sound. With an "Advanced Look-Ahead" design and incredible speed, bx_limiter TP is able to deliver tight, accurate low end and stereo imaging, even at extreme settings.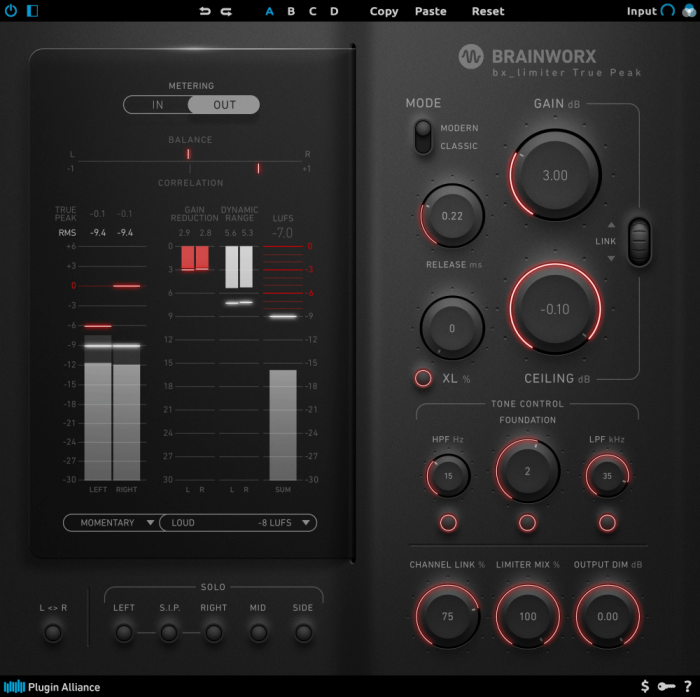 bx_limiter TP features
Two different styles/sounds of limiting: Modern and Classic.
Includes Brainworx beloved XL saturation for extra loudness and glue.
Integrated loudness and dynamic range metering.
Unique tone controls including a low and high pass filter, and Brainworx proprietary Foundation filter for dialing in the perfect low to high balance at the perfect center frequency.
Output Dim to deliver masters at specific output levels, such as -1dB True Peak for streaming services.
Independent monitoring for L, R, M, and S, with Solo In Place capabilities for L&R channels, and stereo correlation meters.
A gain knob that lets you REDUCE input to the limiter to easily fix gain-staging issues.
Simple and elegant operation with customizable color schemes.
The plugin is on sale at Plugin Alliance for the intro price of $249.99 USD for a limited time (regular $299 USD). Use voucher code TRUEPEAK-INTRO-14999 at the checkout to get it for $149.99 USD until May 10th, 2021. bx_limiter TP is also included in the Mega, Mix & Master, Essential, and Brainworx Bundles at no extra cost.
bx_limiter True Peak is also available from Plugin Boutique at 50% off MSRP with coupon code nk2bhk at the checkout for a limited time.