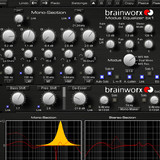 Brainworx has announced the release of bx_digital V2, a state-of-the-art digital mastering processor that provides you with a mastering class 11-band equalizer, M/S De-Esser, Mono-Maker and intelligent Bass- and Presence-Shifters, plus extra M/S features, such as Pan for M&S, and Stereo Width Control.
bx_digital V2 works in 3 modes (!) including a sophisticated "M/S Mastering" mode and emulates the three most outstanding modes of the analogue Modus EQ bx1, whereas the software offers literally all the features of the hardware including the M/S-SOLO-Buttons, and a lot of functions that the hardware doesn´t even offer (Auto Listen, etc.)
bx_digital V2 features
3 Modes (M/S mastering, M/S recording, L/R stereo).
new and unique "SixPack" Master Section.
11-band EQ (TDM, RTAS, VST, AU) incl. Shifter EQs up to 22 kHz.
built-in M/S De-Esser / dynamic EQ (20 Hz – 22 kHz).
precise Correlation- and Balance-Metering.
individual Bypass and Link for every feature.
4 Presets, Copy/Paste, Undo/Redo for all functions.
new Auto-Solo and Auto-Listen modes for TDM & Native.
individual PAN for Mid and Side Signals.
Phase-corrected SOLO-Buttons for L/R/M/S signals.
Intelligent EQs: Bass-Shift & Presence-Shift.
Mono-Maker: makes bass frequencies mono only!.
Extensive metering, individual L/R and M/S LEDs.
Touch-sensitive AUTO SOLO: interactive with ICON for solo modes.
7-band EQ perfectly matches the center section ICON-EQ.
Mousewheel control supported for MAC & PC.
bx_digital V2 is available for PC and Mac (VST/AU/RTAS/TDM) for 334,45 EUR for the native version, and 586.55 EUR for the TDM version. Upgrades are available from V1 native for 99 EUR and from V1 TDM for 149 EUR (all prices excl. VAT if applicable).
More information: Brainworx / bx_digital V2