Plugin Alliance has launched bx_opto, a compressor effect plug-in by Brainworx.
The Brainworx bx_opto compressor combines some of the best colors, character and features from what Brainworx has learned modeling the optical circuits of some of the world's best-loved compressors. Rather than recreating a hardware product in software, the bx_opto takes the best aspects and anomalies from these legendary light-dependent circuits to create a software compressor you'll wish you could buy a hardware version of. The result is a beastly little dynamics processor, teeming with character and spitting out sounds no analog optical compressor can.

Most optical compressors are appreciated for their musical, program dependent character introduced by anomalies in the light dependent circuitry of the sidechain; the general speed of compression is cemented by the given behavior of the compressor's Light Dependent Resistor (LDR). Hardware opto-compressors can only allow users the ability to adjust the effect of this character by introducing a separate resistance circuit that gives some control over the compression envelope.
bx_opto features
Analog, optical compression colors with more control.
Content-dependent peak reduction / compression with one knob.
'Speed' knob controls the coefficient of Light Dependent Resistor, creating unique transient response.
Fully sweepable (20 Hz – 20 kHz) LP/HP/BP (wide)/ BP (narrow) sidechain filter.
Wet/Dry mix for parallel compression.
Accurate metering for reading amount of gain reduction.
NOT a transparent compressor; gently level or completely raze your sound with harmonically pleasant results.
bx_opto for Windows and Mac (VST/AU/RTAS/AAX/AudioSuite) is available for purchase for $149 USD.
Also released is the bx_opto Pedal, a slimmed-down version of the bx_opto.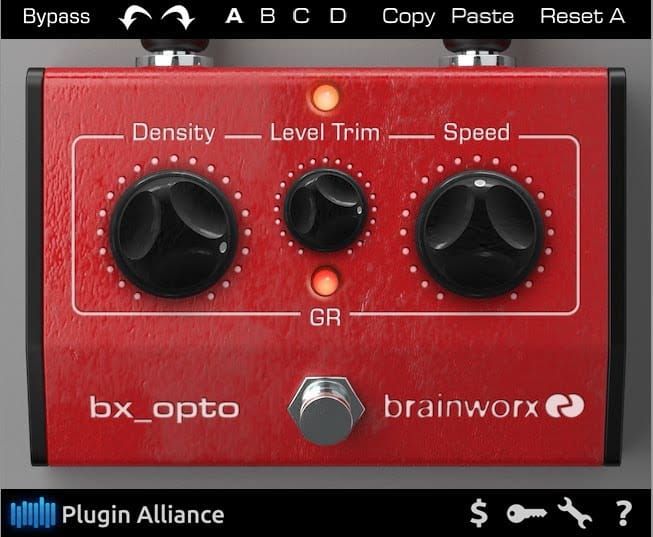 It provides a great way to get that charismatic compression of the bx_opto with a simpler interface, lower price tag, and guitar pedal feel.

After meticulously modeling the light-dependent circuits of several optical compressors, the bx_opto has amalgamated into a beastly little dynamics processor, teeming with character and spitting out sounds like no analog optical compressor can do.
bx_opto Pedal costs $49 USD. Until July 22nd, 2015, you can get it for free at KVR Audio.
More information: Plugin Alliance / bx_opto