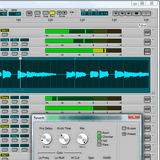 Bremmers Audio Design has released version 6.3 of MultitrackStudio, an audio & MIDI multitrack recording software for Windows.
The new release includes a General MIDI compatible instruments collection called MultitrackStudio Instruments. The MultitrackStudio Instruments are fully modeled, they don't contain any samples. This allows for randomizing many parameters which helps reducing machine gun effects. It also allows for fast load times and a small download size. The 6.3 version download is still under 4 MB. Audio demos are available at www.multitrackstudio.com. The electric guitar sounds use the Guitar Amp effect which appears in the Pro Plus edition only.
MultitrackStudio features
New:

MultitrackStudio Instruments: built-in General MIDI sounds.
MIDI pitch bend range can be adjusted.
Undoing "tweakable edits" now undoes the last tweak only, rather than all tweaks.
Some effects use significantly less CPU power if there's no audio signal present.

Fixed:

Could not create medium-quality mp3 files using Lame_enc.dll.
Score editor: 8va setting wasn't read from song file.
MP3 files starting with corrupted frames now open.
A couple of other bugs.
The update is free for users who purchased MultitrackStudio after October 1, 2009. Upgrades for older versions are $39 USD (Pro Plus) / $23 USD (Professional).
More information: MultitrackStudio