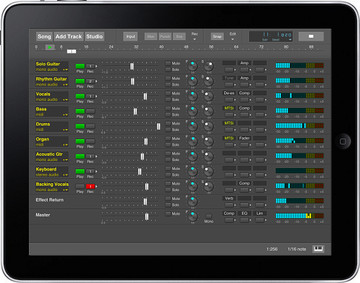 Bremmers Audio Design has released version 1.5 of the iOS version of the MultitrackStudio audio/MIDI multi-track recording app.
It's even easier to use, even more straightforward and even more fun.

Think MultitrackStudio but leave out the computer problems and distractions… that's MultitrackStudio for iPad!
Changes in MultitrackStudio for iOS v1.5
Matrix Sampler.
Matrix onscreen keyboard.
Pseudo Stereo effect is renamed to Stereo Imager, and now processes stereo input signals as well.
"Expand to Chord" menu plays the chord you're touching (move finger out of highlighted area to avoid expanding to chord).
Uses Audiobus 2.1.3 SDK.
Fixed: External Instrument's patch selector didn't work right.
MultiTrackStudio for iPad is available to purchase for $29.99 USD.
More information: MultitrackStudio for iPad