Bremmers Audio Design has released version 8.1 of MultitrackStudio, which now includes support for the Microsoft Surface Pro 3 tablet.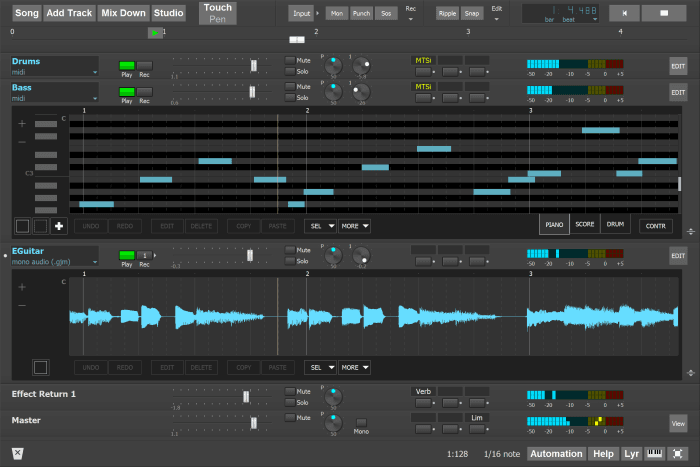 There's a new 'Pen with touch scrolling' mode which works with pen almost exclusively. Touch can only be used to scroll and zoom editors etc., and to play the onscreen MIDI keyboard. All other touch actions are ignored, so you can't tap something accidentally with the hand palm.

'Pen with touch scrolling' mode is great for MIDI editing because the pen is far more accurate than the touch screen. The pen allows for rapid editing while touch can be used for easy navigating.

Touchscreen support has been improved as well. A button is available in the main window for switching between pen and touch mode quickly.

The user interface can now scale to larger sizes, which is necessary because of the Surface's very large screen resolution. There's also an option to make the program not DPI aware, so Windows scales the user interface. This looks rather blurry, but it does scale VST plugins too, which may come in handy since many VST plugins don't support UI scaling.
Check here for more details on what is new in version 8.1.
MultitrackStudio for Windows and Mac is available for purchase for $69 USD (Standard) / $119 USD (Pro). The MultitrackStudio Lite version is available for download at no charge.
More information: MultitrackStudio