Isotonik Studios has announced the release of Signal by Chaos Culture, a set of Max for Live building blocks that allows you to build your own signal flow that can be used to create audio, control voltage or just modulate anything in Live.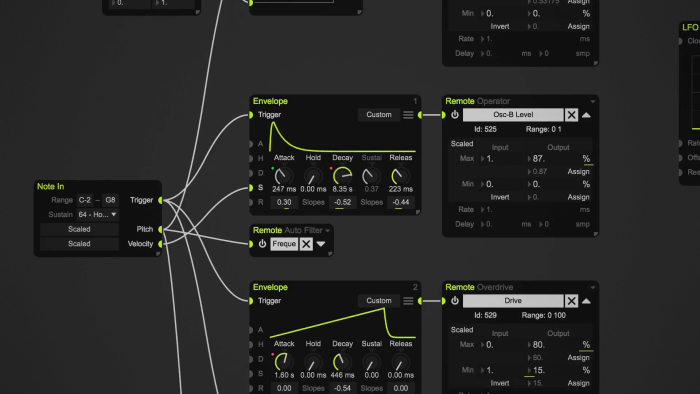 With Signal, Chaos Culture has created a system that lets you quickly drag together pre-built modules without having to worry about learning how to achieve a result.
Signal is a toolbox of modules that can be connected together to create or modify signals from Ableton Live, transform and output them as Audio or control for parameters. Begin by spawning modules from the menu and then connect them with patch cords by clicking on each modules inputs (left) and outputs (right). You can click on any output to monitor its signal within the scope and all modules run at audio rate. Use the Audio In & Out Modules to exchange signals between devices or to send & receive control voltage.

Signal is a node based / modular playground for control signals such as LFOs, envelopes and automations. Most Max for Live control devices have a lot of issues and limit the possibilities by completely taking over the control of a parameter in Live. Signal uses audio signals for all its calculations and lets you route them however you want giving you a lot more options while keeping the highest quality possible along with staying sample accurate.

Additionally it eliminates chain mapping, where you would use an LFO on another one. Since every mapping in Live introduces a delay as well as CPU usage, chain mapping is not useful at all. With Signal you only need one mapping to make everything possible. You can always add another signal and keep expanding the setup. Especially by using multiple instances you can use Lives own routing to mix control signals, record them and play them back in any way using the session view, the Looper device or simply by triggering them using Simpler/Sampler.
Signal features
Modulate Live parameters, MIDI, Control Voltage and audio.
Sample accurate, control parameters on time.
Audio rate signal processing, latency compensation for individual modules.
Monitor and compare multiple signals simultaneously.
26 versatile modules (more to come in free updates).
Copy & paste between Live sets.
Ableton Live 9 & 10 support.
Signal is available for the intro price of £49.99 GBP ex. VAT where applicable. Requires Max for Live 8.0.2 or higher.
More information: Isotonik Studios