Cableguys has announced the release of PanShaper, a panning effect plugin featuring multiband stereo modulation and width control.
Powerful, fast modulation editing, width controls, multiband options, a streamlined interface, and unparalleled ease of use: PanShaper takes stereo control to a new level.

Breathe life into a static mix and make individual elements stand out. Let them pulsate, sweep, and unfold across the stereo field.

Or boost your stereo image exactly the way you want it. Widen your mix in the mid frequencies for a fuller sound, or put your bass to mono to ensure that your track retains its energy.

Our unique editing tools let you add panning effects fast, and with pinpoint detail. Multiband modulation and width controls provide the final touch for in-depth editing — the possibilities are wider than you can imagine.

For evolving, fluid modulation or rhythmic patterns, for surgical panning edits of single hits within a loop, for subtle oscillation or intense motion from left to right. For a more lively sound, for pinpoint panning control, and for a more defined and wider stereo image.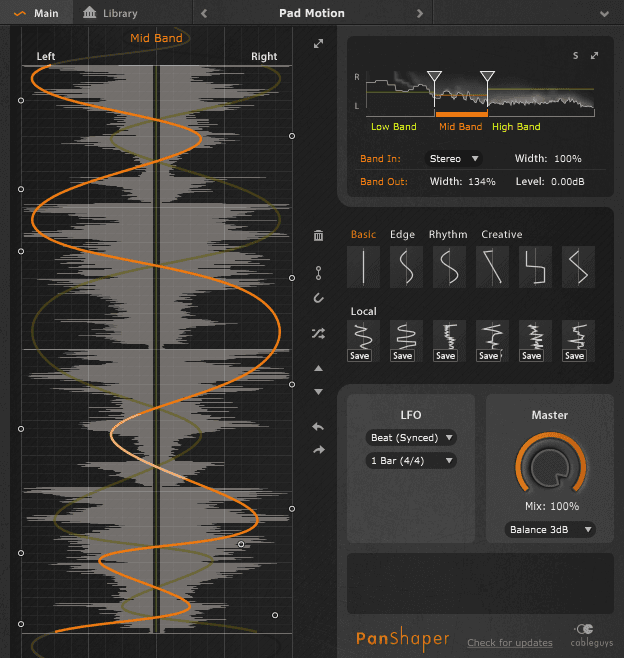 PanShaper features
Waveform-based modulation editing.
Multiband split with spectrum view and 6dB or 12dB slopes.
Independent modulation curves and stereo width controls for each band.
Multiple panning modes (0/3/4.5/6dB 'Stereo Balance' and 'Stereo Combined') for deep control.
Sample-accurate LFO, in sync with your DAW, and in Hz mode up to the audible range or retriggered via MIDI.
Precise display of left/right volume for helpful visual control.
Preset library and fast access to a comprehensive selection of preset curves.
PanShaper for Windows and Mac (VST/AU) is available for purchase for 34 EUR / $39 USD incl. VAT. It is also included in the Cableguys Bundle (incl. Curve 2, FilterShaper 3, VolumeShaper 4, and MidiShaper) at a 45% savings, priced at 149 EUR / $199 USD incl. VAT.