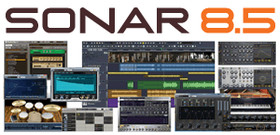 Cakewalk has announced the release of SONAR 8.5, the latest version of the digital audio workstation for Windows PC.
SONAR 8.5 continues to innovate with new capabilities including enhanced beat creation and arrangement tools, a new drum instrument loaded with stellar kits and patterns, an enhanced audio timing toolset, new multi-stage effect plug-ins for drums, percussion sounds and vocal tracks, engine optimizations and stability improvements, and many additional workflow and technological advances -notably Windows 7 compatibility.
Changes in SONAR 8.5
Matrix View—simple and flexible cell-based, non-linear audio and MIDI arranging with live triggering capability.
Step Sequencer 2.0—the most powerful step sequencing capability in any DAW.
Integrated Arpeggiator—trigger Arpeggiations on MIDI or instrument tracks with in-depth control over all arp parameters. Includes hundreds of presets.
Session Drummer 3—latest version of Cakewalk's virtual instrument for easy and fast creation of drum tracks with a new UI, stellar sounding kits and patterns from top sound designers and drummers, more.
AudioSnap 2.0—updated audio quantizing and time shifting technology with new look and refinements to all the core controls, significantly improving workflow, plus improved offline rendering.
Media Browser—the new hub for content access within SONAR; supports multiple formats to preview and import all your loops, grooves, and MIDI patterns; features presets to quickly grab content from your favorite locations.
PX-64 Percussion Strip—seven-stage processor designed specifically for use with drums and percussion.
VX-64 Vocal Strip—seven-stage processor optimized for shaping and sculpting vocal tracks.
Windows 7 Support—tested, ready, and recommended for use.
Engine optimizations and stability improvements for recording audio, and while looping.
"Hotswap" audio and MIDI devices, including control surfaces, without restarting SONAR.
VST plug-in compatibility improvements.
Native REX loop support featured in Track View, Media Browser, and Matrix View.
BitBridge XR—run 32-bit plug-ins in 64-bit environments, with memory access now extended up to 128 GB RAM.
SONAR 8.5 is available for purchase now at select music and sound retailers.
SONAR 8.5 Producer $499 USD / €499 EUR / £435 GBP (incl. VAT).
SONAR 8.5 Studio $299 USD / €299 EUR / £265 GBP (incl. VAT).
Upgrade for SONAR 8 Producer customers $99 USD / €99 EUR / £89 GBP (incl. VAT).
Upgrade for SONAR 8 Studio customers $79 USD / €79 EUR / £69 GBP (incl. VAT).
All SONAR V-Studio 700 customers and those SONAR customers who purchased SONAR 8 after July 1st are eligible for a free download of the 8.5 upgrade.
More information: Cakewalk