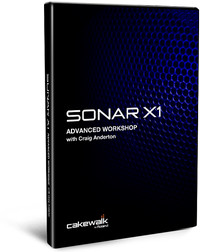 Cakewalk has announced the release of its SONAR X1 Advanced Workshop with Craig Anderton instructional DVD.
Beyond simple tutorial on how to get up and running with SONAR X1, this compilation of advanced workshop videos provide in-depth exploration of techniques that add up to a true master class.

SONAR X1 Advanced Workshop with Craig Anderton, a ground-breaking collection of advanced SONAR X1 techniques, is Cakewalk's first official video tutorial. Craig is one of the most respected music industry experts in the world today, and his novel, real-world insights and tips will help any SONAR X1 user make music more creatively and efficiently.

The 1 hour and 40 minute video touches on a wide range of subjects, including vintage effects emulation, repairing damaged tracks, mastering within SONAR, "virtual multi-miking" techniques for acoustic instruments, perfect looping with any pad, convolution-based sound design, constructing a looper in SONAR with unique features, humanizing step sequencer patterns, album assembly, and much more – 31 videos total.

Presented in a practical, easy-to-understand style that demystifies otherwise complex topics, these videos also represent the state-of-the-art in video instruction with tight editing, superb sound quality, and excellent use of the video medium.
SONAR X1 Advanced Workshop with Craig Anderton is available at the Cakewalk Store at an introductory price of $29.99 USD/£24.99 GBP/€29.99 EUR.
More information: Cakewalk