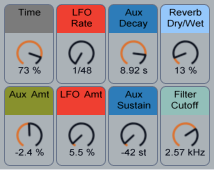 Nick's Tutorials has released Operator Ambience Vol. 1, a set of high quality, royalty free patches for Ableton's do-it-all software synthesizer Operator.
Get inspired with this premium set of 20 ambient and atmospheric Operator patches!

Following many of the same design principles presented in my "Sound Design In Ableton Live: Operator" tutorial series, Operator Ambience Vol. 1 will extend your patch library while also continuing to provide ideas and education for FM synthesis and Operator.
Operator Ambience Vol. 1 features
20 Operator patches that are completely open to reverse-engineering, tweaking, and learning.
20 modifiable Live Clips corresponding with the patches which provide musical phrases and inspiration.
1 substantive introductory video packed with Ableton Live tips as well as detailing common elements between all the patches.
20 short videos detailing unique or noteworthy aspects of each patch, giving insight into their construction and suggestions for using them.
Operator Ambience Vol. 1 is available to purchase for $9.99 USD. A 25% discount is available when purchasing 2 or more items by using coupon code "BULK" at checkout.
More information: Nick's Tutorials