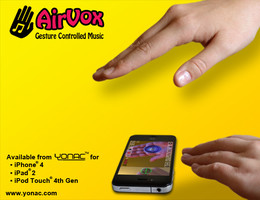 Yonac Software has announced the release of AirVox, a gesture controlled music app for iOS.
AirVox is the first touchless gesture controlled application to employ highly precise Computer Vision technology for mobile devices. Computer Vision is the emerging study of enabling machines to see.

"You don't need a keyboard, fretboard, or touchscreen to make music," says company founder Jim Yonac. "All you need is your own hands."

These revolutionary control methods, combined with AirVox's ease of use, allow anyone to start making music immediately. The right hand controls the pitch, while the left hand controls the selected sound parameter (such as volume or vibrato rate).

AirVox utilizes the front-facing camera and is only compatible with the iPhone 4, iPad 2, and iPod Touch 4th Gen.
AirVox is available to purchase in the iTunes store for $2.99 USD.
More information: Yonac Software / AirVox