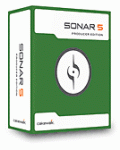 Cakewalk has updated Sonar to version 5.0.1.
New in v5.0.1
64-bit audio import and export. Note: files will be converted to 32 bit float or a lower bit depth at import time. (It respects the "import bit depth" setting if it is not set to "same as original")
New "Mute Previous Takes" option in the Record Options dialog (Transport-Record Options). Applies to punch recording
Double-clicking a meter or numeric peak display now also clears the meter peak markers on that track/bus
A focus rectangle is now drawn in the Track view to indicate which pane will receive keyboard input. The rectangle color is configurable in Options-Colors ("Track View Active Outline")
Added key binding to reset meters and numeric peak displays
Ctrl+Shift+B shortcut to maximize/restore tabs pane in bus view
Visit the Cakewalk support pages for the full release notes.