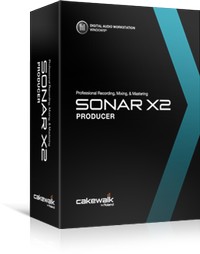 Cakewalk has announced that its SONAR X2 music production software is available now.
SONAR X2 is undoubtedly the best version of SONAR to date. Not only does it introduce exciting new features, but much time and care went into refining almost every aspect of the program.

With an ear to our customers and a keen eye on what today's musicians need, we improved performance, workflow, aesthetics, and stability. Our goal? To craft a program that excels at every stage of music production and enables musicians to sound their very best. With literally hundreds of enhancements and improvements, SONAR X2 delivers the best music production experience on the market today.
New in Sonar X2
A better experience

Skylight—The Skylight user interface was a huge innovation in SONAR X1 and it's even better in SONAR X2. With Auto Zoom, Timeline Zoom, Smart Grid, and a revamped NOW time, Skylight looks better than ever and contains numerous improvements that make it faster and more fluid.
Better Views—Many of SONAR's views have been updated to improve function and match the look and feel of the Skylight interface. New Take Lanes, enhanced Clips Pane, improved PRV, Loop Construction View and the revamped Matrix View are better integrated and dramatically improve user experience.
Improved Smart Tool—Introduced in SONAR X1, the Smart Tool drastically reduced the need to switch tools. In SONAR X2, the Smart Tool practically eliminates the need completely. And most common functions don't even need a modifier key. Range select across tracks, paint MIDI notes, draw automation and more.
Plus

Over 100 other UI enhancements
Windows 64-bit support for all versions of SONAR X2
Audio engine optimizations
MIDI engine improvements
Easier installation and improved Online Help
Windows 8 and touch screen support (coming in free patch)

Enhanced workflow

Matrix View—The Matrix View brings a live performance feel to SONAR with clip triggering and realtime arranging capabilities. SONAR X2's Matrix View is revamped with rock-solid playback of audio and MIDI, per-cell trigger resolution, flexible routing, and external MIDI hardware support.
Automation—SONAR X2 now includes Automation Lanes which make it easier to create professional, dynamic mixes. In addition to lanes, SONAR X2 includes new Latch, Touch, Overwrite, and Punch, modes as well as improved editing with the Smart Tool including freehand and line drawing.
SoundCloud and more—Online music and social media are a huge part of music today. With SONAR X2's integrated SoundCloud support, you can distribute your own music and notify your fanbase instantly. In addition, you can export MIDI to your favorite notation software using MusicXML, burn CDs and more.
Plus

Smart Grid
Track Lanes
Replace a synth for one step instrument swap
Enhanced screensets for one touch workflow management
New per-clip MIDI editor
Improved track and data selection

New plug-ins and tools

Overloud TH2—SONAR X2 now features the critically acclaimed Overloud TH2 technology with special editions of TH2 SONAR (SONAR X2 Essential and Studio) and TH2 Producer (SONAR X2 Producer). Just plug-in and experience the most realistic guitar sounds ever available in any DAW.
R-MIX SONAR—Exclusively available in SONAR X2 Producer, R-MIX SONAR will change the way you mix forever. Now you can visualize your mix and use R-MIX SONAR to isolate different parts of your mix for the ultimate creativity. All powered by Roland's powerful V-Remastering technology.
Console Emulator—Inject the sound of three legendary consoles right into SONAR X2 Producer's ProChannel, bringing "in the box" mixing to a whole new level. Add it to any channel or bus and dial in the warm sound of these legendary analog hardware consoles – all with the flexibiity of software.
Plus

BREVERB SONAR VST & ProChannel (Producer exclusive)
Softube Saturation Knob for ProChannel (Producer Exclusive)
Modular ProChannel with updated EQ (Producer exclusive)
Updated LP-64 mastering plug-ins (Producer exclusive)
Critically-acclaimed Rapture synthesizer (Producer exclusive)
FX Chains with new presets for each version
ProChannel FX Chains (Producer exclusive)
SONAR X2 is now available to purchase in Essential, Studio, and Producer Editions. Various upgrades are available to Cakewalk customers as well.